'Fuller House' – The Complete First Season on DVD
Category:
Blu-ray's and DVD's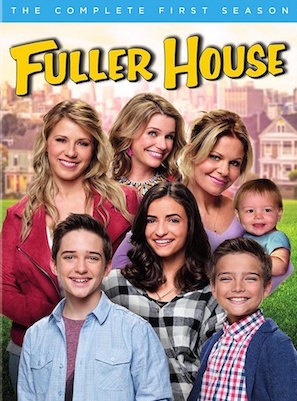 The hit Netflix sitcom Fuller House has been renewed for a third season. If you don't have Netflix, consider getting the first season on DVD, with all 13 episodes.
Fuller House shows that there is a good way to make an updated sequel to a popular show. This is a fun, family-friendly show that brings together the cast from the original sitcom, Full House (1987-1995) while at the same time making it fresh and entertaining for nostalgia viewers and new viewers.
The entire cast of the original are on hand to kick off this new series: John Stamos, Dave Coulier, Bob Saget, Lori Loughlin, and Scott Weinger join series stars Candace Cameron Bure, Jodie Sweetin, and Andrea Barber. The only cast members who didn't return are Mary-Kate and Ashley Olsen as little sister Michelle.
The storyline of this new show focuses on D.J. Tanner who is now a widowed mother of 3 sons. Her sister Stephanie decides to move back home to help her raise her kids. Also joining the household is Kimmy Gibbler who moves in with her daughter Ramona (Soni Bringas) with visitations by her estranged husband Fernando (Juan Pablo Di Pace). This house is filled to the brim, again. That in itself is enough to name the series "Fuller" House, however the fact that D.J.'s married name is Fuller actually adds to the cuteness, and this show has a lot of cuteness going on, with references to the past and all of the phrases made famous by the characters: "have mercy," "cut it out," "how rude," and definitely, "Oh Mylanta."
As the season progresses the three women find themselves in various situations. D.J. is courted by her co-worker Matt (John Brotherton) and her high school boyfriend Steve (Weinger), Kimmy is thinking about reuniting with her husband, and Stephanie is trying to figure out her own life. In the meantime, there are D.J.'s three sons and Ramona adding more confusion to the old Tanner house. And periodically members of the old cast return to add additional situations to he already complicated household.
For a fun little sitcom, Fuller House definitely delivers plenty of antics for everyone to enjoy, especially if you are a fan of the original series. With all the subtle and not-so-subtle references to the past, this show fulfills the cuteness factor as well as provides a good family show.
"I think we knew it was going to be great because for years and years no matter what we've done, everybody always asks about Full House," Candace Cameron Bure told the media. "Everyone has always talked about Full House, especially through social media and how that's grown, and we get to interact with everyone in the world. So we knew the fan base has been so loyal and there, but I think even the response is greater than we expected, and we knew it would be great. So it's extremely exciting for us." And, it's fun for the viewers. The actress won the People's Choice Award for TV Actress in a Comedy, and the show won for Favorite Premium Comedy Series.
About the Author
Francine Brokaw has been covering all aspects of the entertainment industry for over 20 years. She also writes about products and travel. She has been published in national and international newspapers and magazines as well as Internet websites. She has written her own book, Beyond the Red Carpet The World of Entertainment Journalists, from Sourced Media Books.
Follow her on Twitter