'Fuller House' Season 2 DVD GIVEAWAY
Category:
Giveaways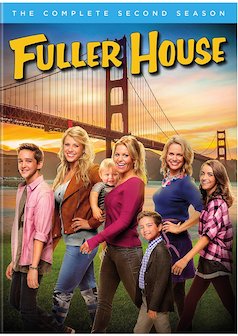 In Fuller House: The Complete Second Season, there's no place like home, as the Tanner-Fuller-Gibblers serve up a whole new set of hilarious adventures. D.J. finally decides between Matt and Steve. Kimmy's ex-husband, Fernando moves into the Tanner house. Ramona thinks she's ready for her first kiss. The entire Tanner family shows up to the house for Thanksgiving, pushing D.J.'s organizational skills to the extremes. Kimmy tries to get her childhood band Girl Talk back together again. Uncle Jesse and Becky consider making an addition to their family. A famous '90s boy band makes a guest appearance and much more! Fans won't want to miss the latest antics of the Tanners in the complete second season, available for the first time on DVD!
The series has already been renewed for a third season on Netflix and earned a People's Choice Award in 2017 for "Favorite Premium Comedy Series."
We have some DVDs to giveaway.
To be eligible to win a copy of Fuller House: The Complete Second Season, email us at [email protected] with "Fuller House Giveaway" in the title. Please supply your name, address, phone number and email address (so we can let you know if you are a winner).
The deadline for this giveaway is December 12, 2017.