Frozen in Time DVD
Category:
Blu-ray's and DVD's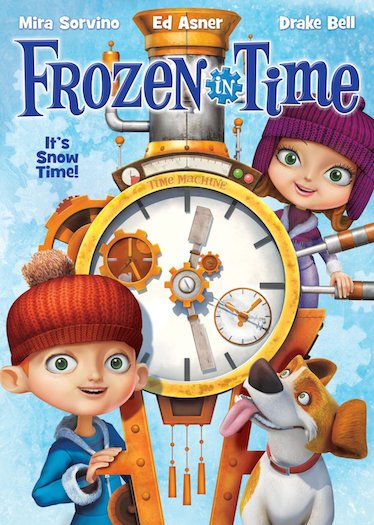 For young Eric and Patty, it is Christmas Eve over and over again in the holiday tale Frozen in Time, an adorable animated story for kids. It all takes place on Christmas Eve, and again on Christmas Eve, and again and again. The twins are locked in a time warp where every day is Christmas Eve.
The story begins with mischievous Eric and Patty going with their parents, older brother, and little dog on a trip to grandpa's house for the holiday. Their grandfather is an inventor and enjoys showing the family all his latest gadgets. But all the youngsters are interested in is having fun and eating cookies. And Patty can sure chow down the cookies and candy. This little girl has the sweetest sweet tooth ever. Everything they do manages to get them into trouble, however the worst thing is when they accidentally break a clock in their grandfather's workshop. This leads them to freeze time in the sense they keep reliving the same day. They are the only ones who know they are reliving Christmas Eve. To everyone else it's just another day, but to Eric and Patty, it's the same day over and over.
The first few times they relive the day, they mix things up a bit, but are still mischievous. After all, they won't have to take any punishment because tomorrow will be the same day. Then they decide to change things up by trying to be good. Their first efforts fail, but slowly they get the hang of it, after a few days of trying. Even with the most perfect day, however, they still cannot fix the time continuum. When they wake up the next day, it's Christmas Eve – again.
It's not until they tell their grandfather what's going on when he realizes the problem and how to fix it. And, to fix it they must go to the North Pole.
Eric and Patty are adorable siblings, and they learn that family is the most important thing in life. This is a fun little holiday film for kids.
Frozen in Time is rated G for everyone.
About the Author
Francine Brokaw has been covering all aspects of the entertainment business for 20 years. She also writes about technology and has been a travel writer for the past 12 years. She has been published in national and international newspapers and magazines as well as internet websites. She has written her own book, Beyond the Red Carpet The World of Entertainment Journalists, from Sourced Media Books.
Follow her on Twitter
Like her on Facebook