'Frozen II' now on 4k
Category:
Blu-ray's and DVD's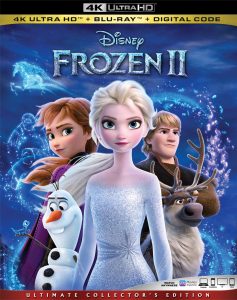 Frozen II is filled with music, magic, and mystery. Elsa, Anna, Kristoff, Sven, and Olaf are living fun and fulfilling lives in the castle. But Elsa is being haunted by a mysterious sound. She follows the sound and accidentally awakens a mysterious enchanted forest that has been locked in a mist for decades. Elsa and Anna heard about this mysterious place from their parents when they were little girls. Now they get the full understanding of what happened in the past and how their parents are entwined with this enchanted forest. Suddenly the fate of Arendelle is precarious and it is up to Elsa and Anna to save their country.
The story introduces many new characters as well as two new animals: a sweet and fun-loving little salamander that steals the hearts of audiences, and the Nokk, a beautiful water spirit iridescent horse that helps Elsa in her quest for the truth. The lost Arendelle guard, led by Mattias, and a whole new culture of people named the Northuldra. They care for the elements of fire, water, air, and earth. But there is one more element and that is what Elsa must discover.
There is also a wind spirit named Gale and a group of Earth giants. And let's not forget about the herd of reindeer that also inhabit the enchanted forest. Along with the original five, all of these characters join together for a fun-filled journey through an enchanted land.
There is over an hour of bonus features that help viewers understand the background of the story and the making of the film. For instance, there are several deleted scenes and songs. They are in storyboard form however they are definitely worth watching. It would be fun to see them all completely animated. The songs and scenes are entertaining and enjoyable and although they did not make it into the film, they merit viewing.
Another bonus looks at the flubs made by the voice actors while recording their lines and songs. This also would be fun to see animated, but it takes too much time and money to animate these bloopers. Oh well, they are funny and cute.
"Did you know???" is a little featurette that reveals facts about the movie. The enchanted forest was based on the forest from Sleeping Beauty. The filmmakers did extensive research to make the flora in the forest reflective of the actual plants in Norway. There are plenty of Easter Eggs in the film that are examined so when viewers watch the film again, they will be able to spot references to other Disney characters and movies.
The 4K version includes the movie in beautiful ultra HD. If you are 4K compatible, definitely get this set. Along with the wider spectrum of color, it is the best way to watch this exquisitely animated film. Included in the set is a Blu-ray disc as well. There is a "sing-along" version of the movie so all viewers will be able to join Elsa, Anna, Kristoff, and the others in their journey. The Digital Code allows for instant online viewing and includes two additional bonus features. The songs always add to these films, and now viewers get to see the songwriting Robert and Kristen Anderson-Lopes, the team behind the memorable songs.
Frozen II is rated PG for action/peril and some thematic elements. It is available in the 4K set, a Blu-ray + DVD + Digital set, and a single DVD.
About the Author
Francine Brokaw has been covering all aspects of the entertainment industry for over 25 years. She also writes about products and travel. She has been published in national and international newspapers and magazines as well as Internet websites. She has written her own book, Beyond the Red Carpet The World of Entertainment Journalists, from Sourced Media Books, is the entertainment correspondent for Good Day Orange County, and has her own TV show, Beyond the Red Carpet, on Village Television in Orange County. Follow her on Twitter.