Frozen Combo Pack
Category:
Blu-ray's and DVD's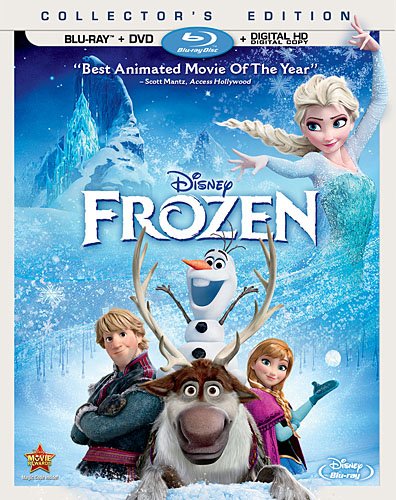 Frozen is a beautifully animated film with a lot of heart. It just received the Academy Award for Best Animated Film and the song "Let it Go" won for best song. If you haven't seen this film, now is the time to pick up the Collector's Edition, and if you have seen the film, it's time to see it again.
Frozen is the story of two sisters – Elsa and Anna. They are fun loving little princesses and completely devoted to each other. Elsa was born with a gift of powers she doesn't know how to control. She can make snow and ice, but after an accident puts Anna's life in danger, Elsa decides to stay away from her sister. She doesn't want to accidentally cause any harm to little Anna. Anna has no idea why her sister won't play with her any more and feels abandoned.
The film then flashes forward several years when it's time for Elsa's coronation. Finally Elsa's powers are revealed and their kingdom of Arendelle is put into a deep freeze. Elsa runs away and Anna goes looking for her.
This is Disney's version of Hans Christian Anderson's "The Snow Queen." There are several memorable characters besides the sisters. There is Kristoff, a sweet guy whose best pal is Sven, a reindeer. And there is Olaf, a snowman that can talk. The snowman talks but the reindeer doesn't. How's that for a switch?
Besides the award-winning song, there are many other songs that add to the enjoyment of this film. For instance, imagine little Olaf singing about what he will do when summer finally comes. The little fellow has no idea that snow melts in the heat.
With the amazing animation, a sweet story of sisterly love and devotion, memorable songs and adorable characters, Frozen is a magical movie. It's an enchanting fairy tale brought to the screen by the talented folks at Disney who put their talents together to create this stunning film.
The bonus features on the Collector's Edition combo pack include deleted scenes introduced by the filmmakers. Sometimes scenes are removed from a film due to time constraints or because they just don't move the story in the right direction. That is true for these scenes. In the film Elsa is not cruel however one of the deleted scenes depicts her as forbidding. There are two scenes with Kristoff that did not make it into the final cut, and probably rightly so.
In other bonus features viewers learn that Walt Disney had originally envisioned a ride at Disneyland based on "The Snow Queen." Imagine, in the heat of summer, taking a chilling (literally) ride in Disneyland. Unfortunately, that never came to be, but who knows? Maybe with the success of this movie it might still come to fruition.
This story has been circulating around the studio since the 1940s. Walt Disney always wanted to push imagination as far as possible, and looked for fairy tales to retell in his own style.
A final bonus feature is the highly touted short "Get a Horse" that ran in theaters before the feature film. This adorable animated short is a creative marvel blending technology with artistry into a fun and ingenious little film.
Frozen is a "must have" for families. It is witty, beautiful, creative, and more than anything, endearing. It's a movie that is just as enjoyable to watch the first time as it is the tenth. It truly is an instant classic. The Collector's Edition combo pack includes a Blu-ray and a DVD along with a Digital Copy. Frozen is rated PG for some action and mild rude humor.
About the Author
Francine Brokaw has been covering all aspects of the entertainment business for 20 years. She also writes about technology and has been a travel writer for the past 12 years. She has been published in national and international newspapers and magazines as well as internet websites. She has written her own book, Beyond the Red Carpet The World of Entertainment Journalists, from Sourced Media Books.
Follow her on Twitter
Like her on Facebook