Frank Sinatra 5-Film Collection on Blu-ray
Category:
Blu-ray's and DVD's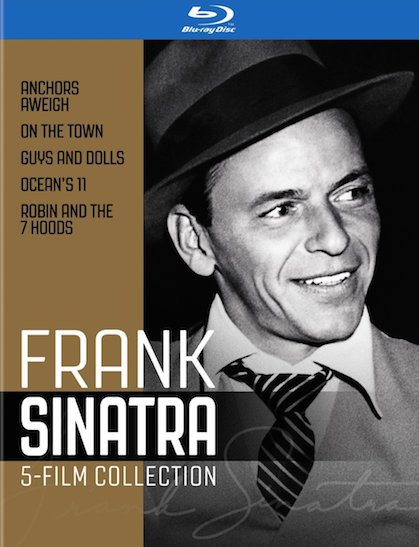 This year Frank Sinatra would have been 100 years old. Even though he is no longer alive, his music and movies remain as constant reminders of the man known as "The Chairman of the Board." Warner Bros. has just released a new Blu-ray 5-Film Collection with some of his memorable films.
Anchors Aweigh (1945), On the Town (1949), Guys and Dolls (1955), Oceans 11 (1960), and Robin and the 7 Hoods (1964) are included in this collection. Some fans of Sinatra films might be wondering why they would want this collection when the films have been released previously and are probably in their collections already. The fact of the matter is this collection is filled with some incredible bonus features that are just as entertaining as the actual movies and at times very educational, not to mention surprising.
Several of the movies are newly remastered: Anchors Aweigh, On the Town, and Robin and the 7 Hoods. But films aside, the bonus features add a lot to the understanding of the film industry at the time, the actors, the films, and definitely Sinatra himself. Plus, a photo book is included in the pack, giving fans an inside look at scenes from the films.
Perhaps the most familiar of these five films is Ocean's 11, partly because it was remade (in their own way) by George Clooney and his own "gang" in 2001 – followed by Ocean's 12 in 2004 and Ocean's 13 in 2007. Sinatra and his "Rat Pack" of Dean Martin, Sammy Davis Jr., Joey Bishop, and Peter Lawford only made the original Ocean's 11, which stands out today as a masterpiece and an amazing assembly of actors of the day. Ocean's 11 also raised the charm and stature of a little town called Las Vegas.
Anchors Aweigh took home the Oscar for Best Musical Score in 1946, however it is also known for the history-making scene in which Gene Kelly dances with an animated character. The filmmakers wanted him to dance with Mickey Mouse, but Walt Disney squashed that idea – after all, it was an MGM film – so they settled on Jerry Mouse. Today live action is regularly meshed with animation, however this was the first time for such a scene, and a bonus feature details how they pulled it off.
On the Town also garnered an Academy Award in 1960 for Scoring in Musical. By now everyone knows New York, New York is a wonderful town. The Bronx is up and the Battery's down. Right?
Guys and Dolls didn't win an Academy Award although it was nominated, however there are plenty of great songs in this film, including some singing and dancing by Marlon Brando. Michael Kidd, the famed choreographer, says in one of the bonus features, "Marlon Brando was a pleasure to work with." Who knew?
Robin and the 7 Hoods was nominated for its music however it didn't win any awards. Sinatra joined together with pals Dean Martin and Sammy Davis Jr., along with Bing Crosby and Peter Falk for this often-overlooked musical.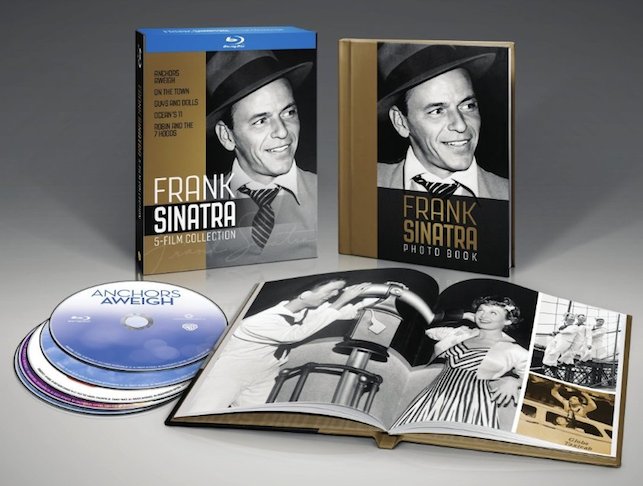 So with amazing costars and fabulous music, not to mention entertaining stories, every one of these five films is worth viewing. In addition to the movies, there are old Warner Bros. cartoons and shorts (one with a disclaimer about the lack of political correctness because it was made in 1945 when views were different), insights into the making of the films, a look at Las Vegas then and now (and if you never visited the city in the 1950s and 1960s you have no idea how different it was!), and more fun highlights. There is a very interesting 1949 MGM short titled "Mr. Whitney Had a Notion." This stars Lloyd Bridges as Eli Whitney who changed history, not only with his cotton gin, but more importantly with his invention of mass production. This is an amazing little story and definitely worth watching.
The truth is I rarely turn on the commentary functions when watching a movie. This time, however, was different. Frank Sinatra Jr. adds some amazing insights and back-stories to Ocean's 11 and Robin and the 7 Hoods. While Frank Junior talks a lot about the music in the films, he also gives viewers little tidbits about the actors and the scenes. While filming Robin and the 7 Hoods on location in a cemetery on November 21, 1963, Frank Sinatra left the scene to go smoke a cigarette. He sat on a headstone for a break before heading back to the shooting location. When he got up he noticed the stone said "John F. Kennedy." The next day President Kennedy was assassinated and Sinatra Junior said that haunted his father the rest of his days. With amazing stories like these, it is well worth turning on the commentaries by Frank Sinatra Jr. before – or after – watching the movies. He is a wealth of knowledge and is wonderful to listen to.
The Frank Sinatra: 5 Film Collection Blu-ray (along with the photo book) is something movie fans, Sinatra fans, and Hollywood fans should see.
About the Author
Francine Brokaw has been covering all aspects of the entertainment business for 20 years. She also writes about technology and has been a travel writer for the past 12 years. She has been published in national and international newspapers and magazines as well as internet websites. She has written her own book, Beyond the Red Carpet The World of Entertainment Journalists, from Sourced Media Books.
Follow her on Twitter
Like her on Facebook