'Five Days One Summer' on DVD
Category:
Blu-ray's and DVD's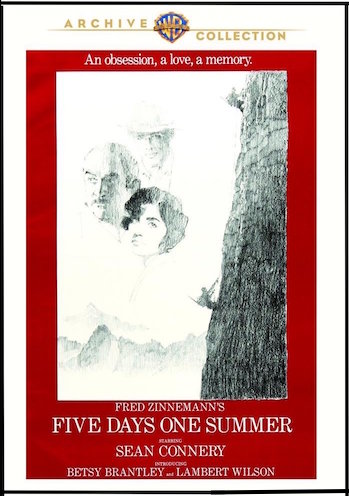 In the 1982 drama Five Days One Summer, Sean Connery stars alongside newcomer Betsy Brantley in a haunting story of love. The story is like an onion, with many layers that come off as the film progresses.
Douglas Meredith (Connery) is a doctor and part owner of his family's shipyard. He has preferred to leave that business to his family and focus on his medical practice. Kate (Brantley) has been overseeing aspects of the shipyard. The film shows their past in flashbacks and viewers see their relationship through the years. Having known each other all their lives, they have a special bond. Kate is young enough to be his daughter. But she isn't. She is his niece.
Their incestuous love doesn't keep them from being together and the two take a mountain climbing trip to the Swiss Alps, a location that provides plenty of splendid scenery for the film.
The issues between the couple are many. First of all, he is middle aged and she is quite young, but definitely mature. The fact that he is married deeply concerns Kate and causes her plenty of tears. When Douglas asks her if she is happy, she says at that moment she is very happy. But there are times when she is quite sad. He tells her he wishes he could do something about that, but he really cannot.
Away in the Alps they get some privacy and are able to enjoy being with each other. But the facts of their relationship and their love start to gnaw at Kate.
Douglas is a charming and caring man. He introduces Kate as his wife. He doesn't want to cause her any more discomfort. They maintain the charade of being a married couple, and seem extremely happy. However when Kate gets reflective and her deep thoughts cause her anguish, the relationship is in for a rocky ride.
The film is a bit slow and until most of the layers are peeled away, viewers don't get the full understanding of the characters, however fans of Connery will see him as the same, sexy, man they have come to know and enjoy watching on screen.
Five Days One Summer is part of the Warner Archive Collection. It's rated PG.
About the Author
Francine Brokaw has been covering all aspects of the entertainment industry for 20 years. She also writes about products and travel. She has been published in national and international newspapers and magazines as well as Internet websites. She has written her own book, Beyond the Red Carpet The World of Entertainment Journalists, from Sourced Media Books.
Follow her on Twitter