Finding Graceland on DVD
Category:
Blu-ray's and DVD's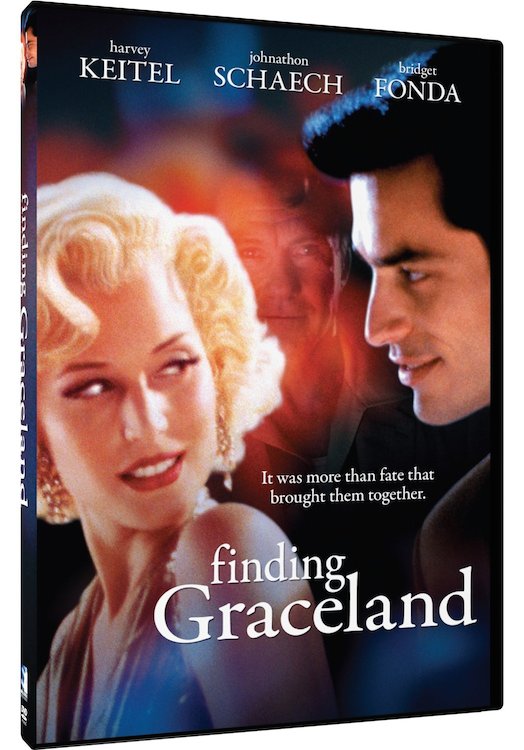 Harvey Keitel, Johnathon Schaech, and Bridget Fonda star in Finding Graceland, a story of love, loss, and fate. Priscilla Presley was an executive producer for this 1998 movie that focuses on an eccentric man who claims to be Elvis.
Byron (Schaech) is a lost man and still grieving over the death of his wife a year earlier. They were in a car/train crash and she didn't survive. He continues to drive his beloved 1959 Cadillac even though it bears the scars of the accident. When Byron picks up a hitchhiker, his entire life changes. The man (Keitel) claims to be Elvis and is on his way back to Graceland. Between the truck stop where the two meet and Memphis, the car trip provides Byron with a new look at life.
The two experience several incidents, in which "Elvis" manages to impress everyone they meet – everyone except jaded Byron. Byron is getting increasingly fed up with "Elvis" and attempts to disconnect from the man several times. But they keep reuniting and "Elvis" imparts plenty of wisdom on the young man, which Byron slowly accepts.
Then at a show featuring impersonators, the two men meet Marilyn Monroe, whose real name is Ashley (Fonda). Ashley is a great impersonator, and honestly, her impersonation of Monroe is amazing. Bridget Fonda actually sings a song as Marilyn, which is a fabulous scene. Fonda is the best Monroe lookalike I have ever seen. Her whole persona takes on the blonde bombshell's traits however when the wig comes off, Ashley is a sweet, caring young woman without any traces of her professional character.
While performing his part of the show, "Elvis" wows the crowd and impresses even the skeptical Byron who, by this time, has become fond of the eccentric man. Once they arrive at Graceland, Byron and "Elvis" face their pasts and Byron is finally able to move forward with his life.
Finding Graceland is a quirky, slow-moving little film with some interesting interactions between the characters and some cute moments. As stated earlier, Bridget Fonda is amazing in this film. The movie is rated PG-13 for a sexual situation.
About the Author
Francine Brokaw has been covering all aspects of the entertainment business for 20 years. She also writes about technology and has been a travel writer for the past 12 years. She has been published in national and international newspapers and magazines as well as internet websites. She has written her own book, Beyond the Red Carpet The World of Entertainment Journalists, from Sourced Media Books.
Follow her on Twitter
Like her on Facebook