'Finding Dory' on Combo Pack
Category:
Blu-ray's and DVD's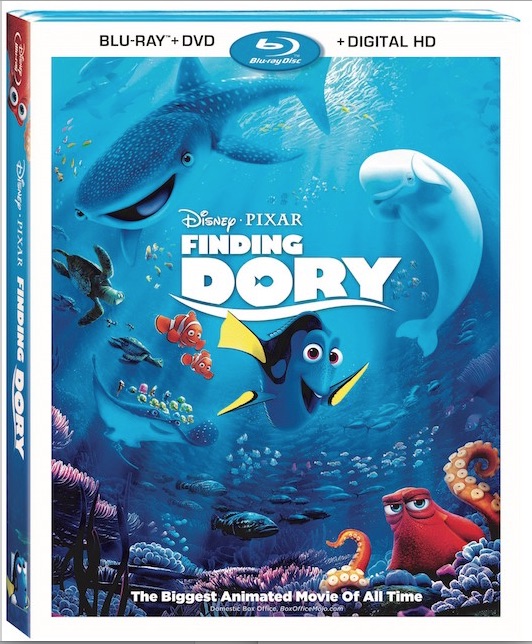 Everyone's favorite Blue Tang fish with the short-term memory problem stars in her own feature film. Finding Dory is just as fun, heartening, emotional, and enjoyable as Finding Nemo, which premiered 13 years ago and captured the hearts of moviegoers around the world.
This story begins a year after the other film ended, with Dory (Ellen DeGeneres), living with Marlin (Albert Brooks) and Nemo (Hayden Rolence). Dory remembers bits and pieces of her childhood and takes off to the Marine Life Institute in search of her parents. Following closely behind are Nemo and Marlin.
An octopus named Hank (Ed O'Neill) becomes her accomplice in locating her parents, although initially he has ulterior motives. And then Dory enlists the aid of her childhood friend Destiny (Kaitlin Olson), a near-sighted whale shark, and Bailey (Ty Burrell), a beluga whale who feels he has a problem with his sonar skills. Meanwhile, Marlin and Nemo get help from a crazy loon named Becky who will also steal the hearts of viewers.
Flashbacks to her childhood introduce audiences to young Dory, a cute little girl who cannot remember much but is filled with wonder, excitement, and love for her parents. She's a memorable (no pun intended) character that will be loved by viewers of all ages.
Among the hours of bonus features is the short that played in theaters prior to the feature film, "Piper." It's a cute little story of a young sandpiper who is afraid of the ocean. This little bird must learn to tame her fear in order to get food. It's one of the cutest shorts from Pixar in a long time.
"Interviews" with some of the characters are a treat for viewers, as is the featurette "Creature Features" in which the actors describe the real life aspects of their fictional characters. Another featurette looks at Hank the octopus, the "reluctant super hero."
To create the characters the animators begin drawing realistic versions of the animals then characterize them. "Failure is a part of the process," explains artist Jason Deamer. He describes how he begins with a shape then adds to that. For instance, Nemo begins as a drumstick, and Dory begins as a ping-pong paddle.
A featurette about the music, some deleted scenes, and a few other wacky bonuses round out the two hours of additional features on the combo pack, which includes a Blu-ray, a Blu-ray with bonus features, a DVD, and a Digital HD. The movie is also available in a 3D combo pack.
Finding Dory is a fun film for all ages.
About the Author
Francine Brokaw has been covering all aspects of the entertainment industry for over 20 years. She also writes about products and travel. She has been published in national and international newspapers and magazines as well as Internet websites. She has written her own book, Beyond the Red Carpet The World of Entertainment Journalists, from Sourced Media Books.
Follow her on Twitter