'Finding Dory' – Movie Review
Category:
Movies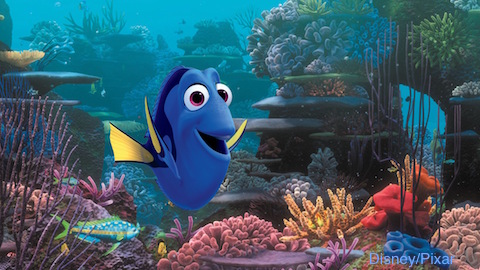 Finding Dory is just as fun, heartening, emotional, and enjoyable as Finding Nemo, which premiered 13 years ago and captured the hearts of moviegoers around the world. All the characters from the original film return and are joined by some great new ones.
We all know Dory (Ellen DeGeneres) is a Blue Tang fish with a short-term memory problem. She helped Marlin (Albert Brooks) find Nemo in their last adventure. Now, fast forward one year from that time and they are all living together. But Dory suddenly starts remembering her past, most importantly, her parents. She remembers "the Jewel of Morro Bay" which is the Marine Life Institute where she was born, and decides she has to go to California to find her parents Charlie (Eugene Levy) and Jenny (Diane Keaton). Her new family – Marlin and Nemo (Hayden Rolence) accompany her through the waters to California, with the help of some old friends – Crush and Squirt.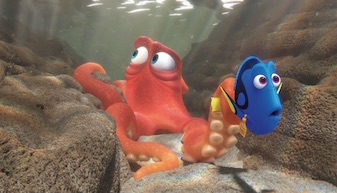 When they finally get to the Marine Life Institute where Dory grew up, the next step is finding her parents in this big place. But that doesn't seem to be a problem for Dory. She always manages to get exactly where she needs to go, and always with the help of her friends.
An octopus named Hank (Ed O'Neill) becomes her accomplice, although initially he has ulterior motives. And then Dory enlists the aid of her childhood friend Destiny (Kaitlin Olson), a near-sighted whale shark, and Bailey (Ty Burrell), a beluga whale who feels he has a problem with his sonar skills. Meanwhile, Marlin and Nemo get help from a crazy loon named Becky who will also steal the hearts of viewers. The new characters, combined with small roles of the cast from the original film, make this another instant classic from Disney/Pixar.
"It's amazing to me that Dory has resonated with people so much," says Ellen DeGeneres, who lends her voice to the funny fish whose motto "Just Keep Swimming" has inspired and motivated audiences worldwide. "Dory was such a big part of Finding Nemo that it makes sense that people might wonder about her journey. We want to see how it worked out for her. Are Marlin and Nemo her family now? Does she have a family and will she ever remember them?"
Flashbacks to her childhood introduce audiences to young Dory, a cute little girl who cannot remember much but is filled with wonder, excitement, and love for her parents. She's a memorable (no pun intended) character that will be loved by viewers of all ages.
"I think people love Dory because there's not one speck of judgment in her," adds DeGeneres. "She's never mean. No matter what she's faced with, she just carries on. She does what needs to be done." And that becomes front and center in this story. "What would Dory do?" Is something Marlin, Nemo, and even Dory ask from time to time when the going gets tough.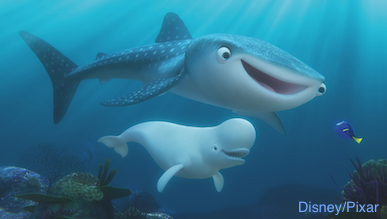 Between all the characters (and that includes some adorable otters who ultimately help Dory and Hank), and the emotions throughout the story, Finding Dory is a film that will resonate with audiences both young and old.
This movie fills in the gap – for audiences as well as Dory – about her past, how she got separated from her parents, how she learned to speak whale, and much more.
Before the film, pay close attention to the new Pixar short, Piper, a fun little story of a young sandpiper who is afraid of the ocean. This little bird must learn to tame her fear in order to get food. It's one of the cutest shorts from Pixar in a long time.
Finding Dory opens in theaters June 17, 2016 and is sure to be a summer event for the entire family. It's rated PG for mild thematic elements.
NOTE: While kids might be tempted to ask their parents for a Nemo (Clown Fish) or a Dory (Blue Tang) of their own, the real ones take a lot of care. Saltwater fish are beautiful however require a lot of upkeep to make sure they are safe and cared for. They are not like goldfish that people have in their tanks and aquariums. They require much more attention. So, the best thing to do when your child asks for a fish like Nemo or Dory is to head to the Disney Store and purchase a stuffed one. Besides, they can also be bedtime buddies, unlike the live ones!
About the Author
Francine Brokaw has been covering all aspects of the entertainment industry for 20 years. She also writes about products and travel. She has been published in national and international newspapers and magazines as well as Internet websites. She has written her own book, Beyond the Red Carpet The World of Entertainment Journalists, from Sourced Media Books.
Follow her on Twitter