Field of Lost Shoes on DVD
Category:
Blu-ray's and DVD's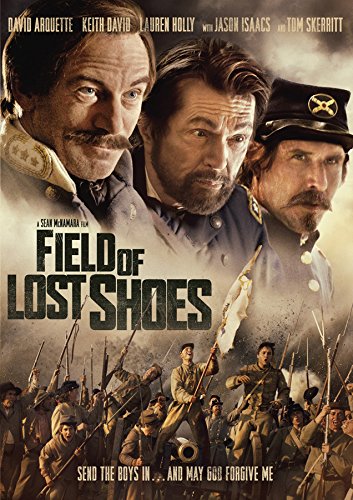 Based on a true story, Field of Lost Shoes is a Civil War film about the bravery of a group of young cadets from the Virginia Military Institute. This group included some upperclassmen as well as a new addition to the school, a young boy anxious to blend in.
This group of fun-loving boys is filled with antics and when they see the new kid, Robert (Nolan Gould), looking like a fish out of water, they take him under their wing. Sure, they tease him and initiate him into the group, but Robert is one of them and they all stick together. All for one and one for all. Honor is their code.
When the Shenandoah Valley is being threatened by General Grant's (Tom Skerritt) army, General John Breckenridge makes the difficult decision to bring 274 cadets from the military institution along to help his army defeat the Yankees. His intention is to keep the cadets at the back of the line, and use them for reinforcements only. However there comes a time when the rebels are being overrun and the cadets take it upon themselves to take charge. This heroism for these young boys is amazing. Instead of fearing for their lives, they decide to take over and rush the Union army to take control of their cannons.
Even though he is worried about the cadets, Breckenridge is proud of these young men. They accomplish more than his regular army. The teens prove their worth, however not without cost.
The characters of the cadets make the film as interesting as their actions. They have personal differences when it comes to the situations of the time, but when push comes to shove, they pull together and would do anything to help each other, even if that means jumping in front of a bullet or cannonball.
While there is not much to this story except the relationship between the boys and their ultimate bravery, it is an interesting look at how these cadets helped save the rebel army in one critical battle of the American Civil War. Today these heroic cadets are still celebrated at the VMI.
This is definitely an inspirational story. Field of Lost Shoes is rated PG-13 for war violence and some thematic elements.
About the Author
Francine Brokaw has been covering all aspects of the entertainment business for 20 years. She also writes about technology and has been a travel writer for the past 12 years. She has been published in national and international newspapers and magazines as well as internet websites. She has written her own book, Beyond the Red Carpet The World of Entertainment Journalists, from Sourced Media Books.
Follow her on Twitter
Like her on Facebook