Ferraro's - The Place to Eat in Las Vegas
Category:
Travel
When I took my first bite I literally said, "I am in heaven." Ferraro's Italian Restaurant and Wine Bar in Las Vegas is a family owned and family run business that, in my book, is one of the best restaurants I have ever had the pleasure to experience. I am really not a "foodie" so when I rave about a place, it is over-the-top.
Ferraro's is not on the Las Vegas Strip, but it's only a few blocks away so getting there is not a problem. There are several areas in which to dine, including an outside patio and several private dining rooms, all with big screen TVs in case you want to catch up on the latest game while you're dining.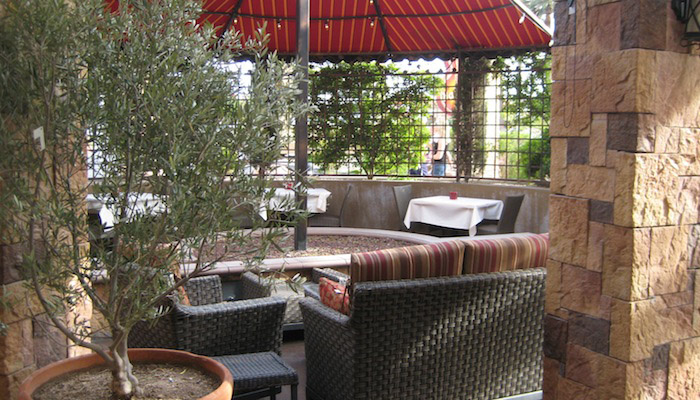 Everything is homemade. That ensures the quality of the food is the best it can be. And, let me tell you, that also goes for the taste as well. Gino and Rosalba Ferraro moved to Las Vegas from Italy in the early 1970s and founded the restaurant in 1985, bringing authentic Italian dining to the city with family recipes from the "old country." They are legendary for their Osso Buco, which is a veal shank braised in red wine and takes eight hours to prepare. Talk about being dedicated to their food!
Mimmo Ferraro, Gino and Rosalba's son, is now the executive chef, having trained in California and Italy. Mimmo often visits with the guests and we were treated to a table visit in which he wowed us with stories about his family and the restaurant. They have an extensive wine cellar with 16,000 bottles and there is an area where guests can sample different wines. Ferraro's has received several industry awards for their wine selection.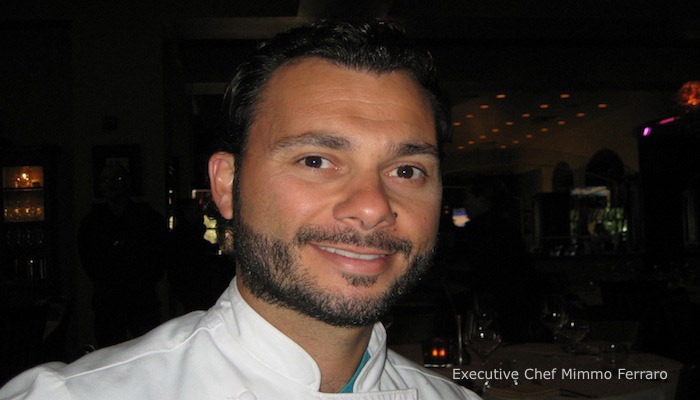 Ferraro's is Las Vegas' longest running family owned and operated restaurant, and with Mimmo's influence, they have added new dishes to the menu, although they are always willing to adjust any selection for dietary needs. If you are allergic to anything or have special foods you don't eat (like being a vegetarian), just let them know.
We sampled many dishes, from salads to pastas, risotto, and desserts. Being a vegetarian was no problem. Ferraro's can tailor most anything to your dietary needs. And Mimmo offers a "Chef Mimmo Experience" where he will prepare a 5-course meal specifically for your table, with or without wine paring. Wow. Chef Mimmo will discuss the details with you at your table if you select this "experience." Says Mimmo, "I'm happiest when our guests decide to have faith and indulge—and just let us take care of them."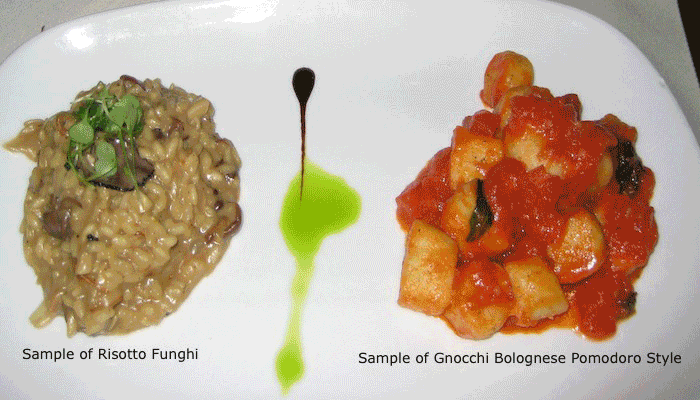 Having sampled a variety of their dishes, I can recommend everything! I think my personal favorite is the Gnocchi. They serve it with meat sauce, however I had it "pomodoro" style, aka with tomato sauce. I know the next time I go there, I will be ordering this dish! However, I might be tempted by the Risotto Funghi (with Porcini mushrooms), which was equally delicious. I also want to revisit the Insalata Mimmo (heirloom tomatoes, avocado, mozzarella, extra virgin olive oil with balsamic vinegar) and the Barbabietole Pistocchio e Caprino (beets, mixed greens, pistachio nuts, goat cheese with raspberry vinaigrette) salads. Another dish I can personally recommend is the Pappardelle Mimmo (long, wide pasta with scallops, lobster, asparagus, butter, sage and truffle oil). I had mine without the scallops and lobster, and it was wonderful. Just thinking about all of these dishes makes me hungry and eager to return to Las Vegas.
Not only is the food amazing, the staff is equally wonderful, warm, friendly, and eager to please. Besides Chef Mimmo, our waiter Eric made sure everything was perfect. And it was.
The restaurant is open from 11 am – 2 am, for lunch, dinner, and late night dining. Dining at Ferraro's is a gastronomical delight. They have dedicated customers who come back over and over again, and they are not all locals. Chef Mimmo told me Ferraro's has regulars "from all over the world," and I now count myself as one of them.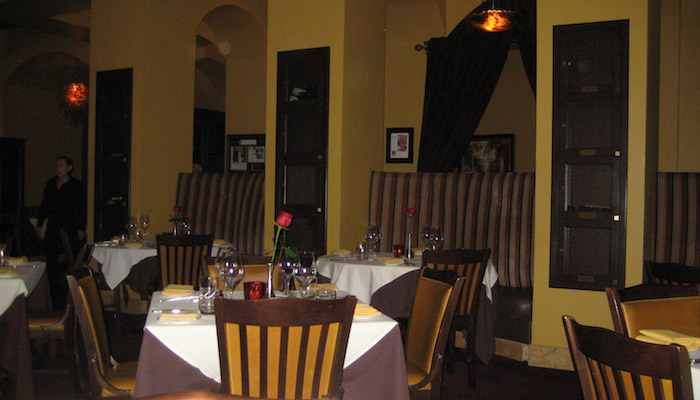 On a side note, this is a very close-knit family. They take great pride in their business and take very good care of their customers. When I heard they sill spend Sunday nights together (Mimmo and his family, his sisters and their families all gather at their parents' home), this reminded me of the Sunday dinners on the TV series Blue Bloods. (If you know that show you understand what I mean.) Family is the foundation of everything for the Ferraro's and that is why the restaurant is as outstanding as it is. They really care about it. That's not to say they don't have a life outside of the restaurant. Mimmo enjoys family activities with his wife Nikki and son Nice. And when he talks about his family, his eyes sparkle and the smile that comes over his face can brighten up any room. Yet, I have to say, that when he talks about the restaurant and the food, he is just as excited. It was a pleasure to spend time with Chef Mimmo and I cannot wait to get back to Ferraro's for some more good food.
Ferraro's is located at 4480 Paradise Road, Las Vegas, Nevada, across the street from the Hard Rock Hotel and Casino. For reservations, call (702) 364-5300. I highly recommend calling for reservations, especially for dinner, as they do get crowded. After all, people know great food when they taste it, and Ferraro's has great food.
Is your stomach rumbling yet? If not, how about this list of some of their signature dishes:
Osso Buco
Papparadelle Mimmo
Carre di Agnello
Agnolotti
Gnocchi Bolognese
Lasagna alla Gino
Farro Verdure Stutare e Fagioli
Costata di Manzo
Coniglio Brasato
Trippa Satriano
Carpaccio di Tonno
Insalata Mimmo
For more information and to entice your taste buds even more, check out their website.
The next time you are in Las Vegas, do yourself a favor and get off the strip. Go a couple blocks to Fararro's Italian Restaurant and Wine Bar and enjoy.
About the Author
Francine Brokaw has been covering all aspects of the entertainment business for 20 years. She also writes about technology and has been a travel writer for the past 12 years. She has been published in national and international newspapers and magazines as well as Internet websites. She has written her own book, Beyond the Red Carpet: The World of Entertainment Journalists, from Sourced Media Books.
Follow her on Twitter
Like her on Facebook