'Father Figures' on Blu-ray and DVD
Category:
Blu-ray's and DVD's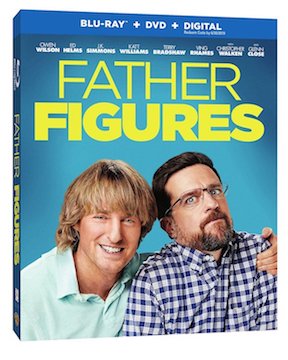 Owen Wilson and Ed Helms star in this wacky comedy about men on a quest to find their father. Father Figures is a madcap adventure for these twins who discover the story about the father they thought was dead was a rouse.
Peter and Kyle (Helms and Wilson) are grown men. Peter is a doctor and a divorced father, living a respectful yet boring life. Kyle is an entrepreneur living the "hang loose" lifestyle in Hawaii. They are twins. Obviously fraternal. Then, on their mother's (Glenn Close) wedding day, they discover she lied to them their entire life, telling them their father died of colon cancer. Now the truth – or something similar – comes out.
Helen discloses she was a wild thing back in the 70's and their father could have been one of several men. This was the time of Studio 54, and Helen was involved in all the partying back then. Then she mentions Terry Bradshaw, the former football player. That pleases the men who decide to go to Florida to meet their father. Well, one thing leads to another and as Bradshaw and the boys bond, they all realize he couldn't be their father. So Kyle and Peter go onto the next clue, and the next, tracking down the men who had "known" their mother back in the day.
So, you have these two grown men searching the east coast for the man who is their father. Along the way, the brothers find that although they are so different in personalities, they truly love each other. All their differences melt away and they become closer than ever.
They manage to find themselves in some interesting situations while on their quest to find their father. J.K. Simmons, Christopher Walken, Harry Shearer, and Ving Rhames are part of this zany family adventure.
This is a film about family and relationships. It's got plenty of humor. After all, just look at the premise. But there are also some sensitive issues that crop up as all of the characters shed their secrets and this family grows even closer.
Bonus features include some deleted scenes and a gag reel.
Father Figures is rated R for language and sexual references throughout.
About the Author
Francine Brokaw has been covering all aspects of the entertainment industry for over 20 years. She also writes about products and travel. She has been published in national and international newspapers and magazines as well as Internet websites. She has written her own book, Beyond the Red Carpet The World of Entertainment Journalists, from Sourced Media Books.
Follow her on Twitter