'Eye of the Needle' on Blu-ray
Category:
Blu-ray's and DVD's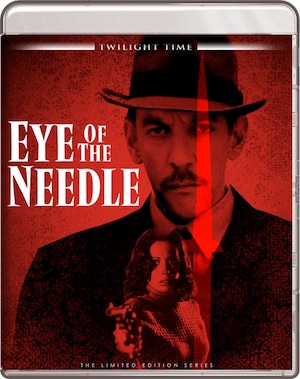 Donald Sutherland stars in this adaptation of Ken Follett's best-selling novel about a German spy during World War II. Undercover as a Brit in England, this man with the code name of "The Needle," manages to ascertain secret information about the Allied upcoming invasion at Normandy. It is now a matter of time to find him and keep him from getting the information to Hitler.
Kate Nelligan is Lucy, a lonely woman living on Storm Island with her young son Joe, her husband David (Christopher Cazenove), and the keeper of the lighthouse. A few years earlier the couple had a car accident on the day of their wedding, rendering David crippled. Instead of flying spitfires during the war, he ran away from everything to become a sheep farmer on a quiet island. Feeling sorry for himself being left in a wheelchair, the couple makes the best of their lives.
Then a stranger is washed onto the island during a ferocious storm. This man befriends the couple while trying to figure out how to get his message to a waiting Nazi submarine. He alone knows where the Allies will invade. If he gets the information to Germany, the invasion at Normandy will be a disaster.
Try to count the number of people he kills during the film. He is intent on doing his job and won't let anything or anyone get in his way. That is until he meets Lucy. Their love affair puts a bit of a snag in his plans, but ultimately he knows he has to get this vital information to Germany.
This is an interesting and often tense story. It's well-written and definitely well-acted. Sutherland is a spy you love to hate. He has no scruples and will kill his best friend if he has to.
If you are in the mood for a good spy movie, check this out. It's a thrilling spy story with a bit of romance.
Eye of the Needle is rated R and is available on a limited edition Blu-ray from Twilight Time.
About the Author
Francine Brokaw has been covering all aspects of the entertainment industry for over 20 years. She also writes about products and travel. She has been published in national and international newspapers and magazines as well as Internet websites. She has written her own book, Beyond the Red Carpet The World of Entertainment Journalists, from Sourced Media Books.
Follow her on Twitter