'Escape from Mr. Lemoncello's Library' Sneak peek
Category:
Sneak Peeks & Trailers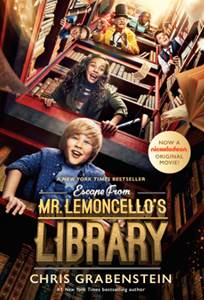 Nickelodeon will premiere a new original TV movie, Escape from Mr. Lemoncello's Library, based on author Chris Grabenstein's acclaimed children's book of the same name, on Monday, Oct. 9, at 7:00 (ET/PT).
World-renowned gamemaker Luigi Lemoncello (Russell Roberts) has built his latest creation–a new state-of-the-art library filled with whimsical and eccentric rooms, where hardcover books fly kids to shelves in the sky, and massive doors open into fantastical worlds. Kyle Keeley, Lemoncello's biggest fan, is chosen to be one of the first to experience the fun, along with his best friend Akimi, a bookworm named Sierra (Klarke Pipkin), a goofball named Andrew Peckleman (A.J. Luis Rivera Jr.), his rival Charles Chiltington (Ty Nicolas Consiglio), and others. The kids must use their wits to complete riddles and collect clues that lead them out of this unique playground of imagination. When excitement turns to jeopardy, this world of wonder begins to spiral out of control as literary characters run amok and chaos ensues. It's up to the kids to make everything right again or else they won't be the only ones escaping.
Nickelodeon's original TV movies are a key part of the network's content mix, creating vehicles for Nickelodeon's stars to be seen in new and different roles and stories. Escape from Mr. Lemoncello's Library joins Nickelodeon's original TV movie slate, which includes three upcoming original TV movies–Hey Arnold!: The Jungle Movie and Tiny Christmas, both set to premiere this fall and Blurt starring Henry Danger's Jace Norman and internet sensation JoJo Siwa, scheduled to air early 2018.
Join in on the adventure by using ##MrLemoncellosLibrary and following @Nickelodeon on Instagram, Snapchat, and Twitter for movie updates and sneak peeks.