'Equals' on Blu-ray and DVD
Category:
Blu-ray's and DVD's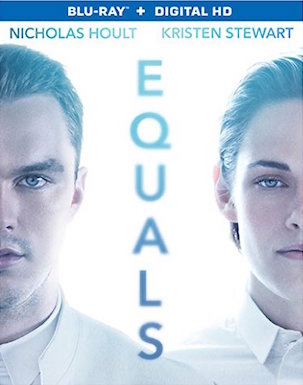 Nicholas Hoult and Kristen Stewart star in Equals, a story set in a future "utopian" society. After an apocalypse has destroyed much of civilization, a new form of humans has continued to thrive. These people have no feelings. They simply exist. However, slowly but surely, some people start to regain their human feelings. These people are thought of as "diseased" and in need of medicine while the scientists search for a "cure" to end their emotions once and for all.
It is a bland world. People go about their business without much thought to others. They simply live. And they live simply. In many ways they are robotic.
Silas (Hoult) is beginning to have feelings for his coworker Nia (Stewart). Any physical interaction is prohibited. And if anyone realizes that he is getting feelings of any kind, he will be thought of as diseased, which is what ultimately happens.
Nia is a hider. She has been hiding that she has feelings and when the two get together they realize that feelings for each other aren't bad. But nevertheless they cannot share or show their affection in public.
This futuristic society has found a way to turn off the parts of the brain that have feelings like love and compassion. The people do not know what it is to fall in love. And when these two finally give in to what makes them human, i.e. their feelings, their lives are not ever going to be the same.
People diagnosed with this affliction are sent to a place where they receive special treatments, once they reach stage 4. Many of them commit suicide. No one wants to have feelings. After all, what do feelings do for the society? Getting feelings means you are diseased. That is something no one wants. Well, almost no one.
This is a story of a love that binds two people as they struggle to be together no matter what. It is slow moving and honestly, during the first part of the film I was considering turning it off. But there was something compelling about the story that made me continue to watch. And it has given me plenty of food for thought. Is this simply a story about two lovers or is it a story that shows what it is to be human and what makes us different than robots other than being flesh and blood.
The bonus features look at the making of the film and the story. The actors discuss their experience and yes, their feelings, about the film. What is probably the most interesting featurette explains that the film was not shot completely with green screen. They actually found a place where this utopian society could be filmed, with stark, modern, minimalist architecture. That place was in Japan.
Equals is rated PG-13 for thematic content, sensuality, partial nudity and disturbing images.
About the Author
Francine Brokaw has been covering all aspects of the entertainment industry for 20 years. She also writes about products and travel. She has been published in national and international newspapers and magazines as well as Internet websites. She has written her own book, Beyond the Red Carpet The World of Entertainment Journalists, from Sourced Media Books.
Follow her on Twitter