Episodes Returns for Season 4
Category:
Television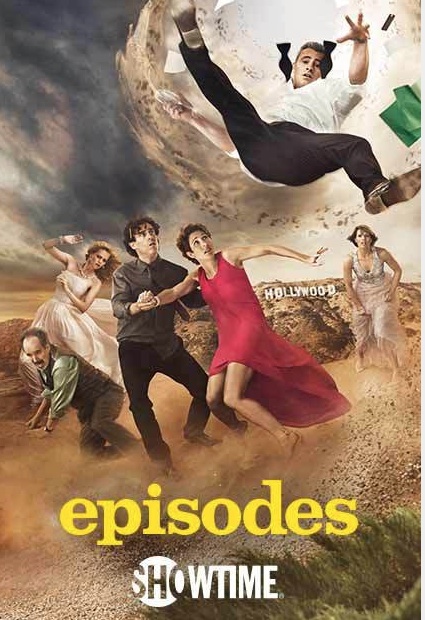 The hit Showtime comedy Episodes returns for another fun-filled season beginning January 11, 2015. The show focuses on a fictional Matt LeBlanc. The real Matt LeBlanc wants the viewers to know that this is definitely a fictional character. And what a character he is!
To fill you in on the background of the series, Matt is starring in a new sitcom called Pucks! from talented British writers Sean and Beverly Lincoln (Stephen Mangan and Tamsin Greig). The egocentric Matt has managed to change the Lincoln's original story and what they end up with is a crappy sitcom, which everyone wants to end.
At the end of last season Pucks! was finally cancelled, leaving Matt free to pursue a really good TV show, which he desperately wants. It also sets the Lincolns free to return to London and finally end their Hollywood nightmare. Unfortunately, when everyone thinks they are rid of the crappy Pucks! once and for all, they are pulled back into the fold for another six episodes. That changes their future plans.
Now we start season four. The Lincolns have reluctantly returned to Los Angeles to oversee the show that has given them so much frustration over the years, and Matt has to cancel his plans for the new series, which looked like it would have been his great comeback.
While everyone is getting back in the muck that is Pucks!, Beverly and Sean are still being pursued to make their much-better second American show. Sean wants to consider it, however since their experience with Pucks! was so awful, she has no desire to continue with their Hollywood career. She wants to return to England, but will the pull of financial gain change her mind?
When Matt learns his business manager took his money, he is anxious to find a way to maintain his lavish lifestyle. But how can he?
Episodes is an addicting series. It has earned a Golden Globe and has been nominated for other awards, including a Primetime Emmy award. Kathleen Rose Perkins plays Carol Rance, the number two executive at the network's Los Angeles office who keeps sleeping with her bosses. But the next one will be different. Stay tuned…
Episodes season four premiers January 11 on Showtime. It is addicting, funny, clever, and rated TV-MA for mature audiences only.
About the Author
Francine Brokaw has been covering all aspects of the entertainment business for 20 years. She also writes about technology and has been a travel writer for the past 12 years. She has been published in national and international newspapers and magazines as well as internet websites. She has written her own book, Beyond the Red Carpet The World of Entertainment Journalists, from Sourced Media Books.
Follow her on Twitter
Like her on Facebook