Enough Said on DVD
Category:
Blu-ray's and DVD's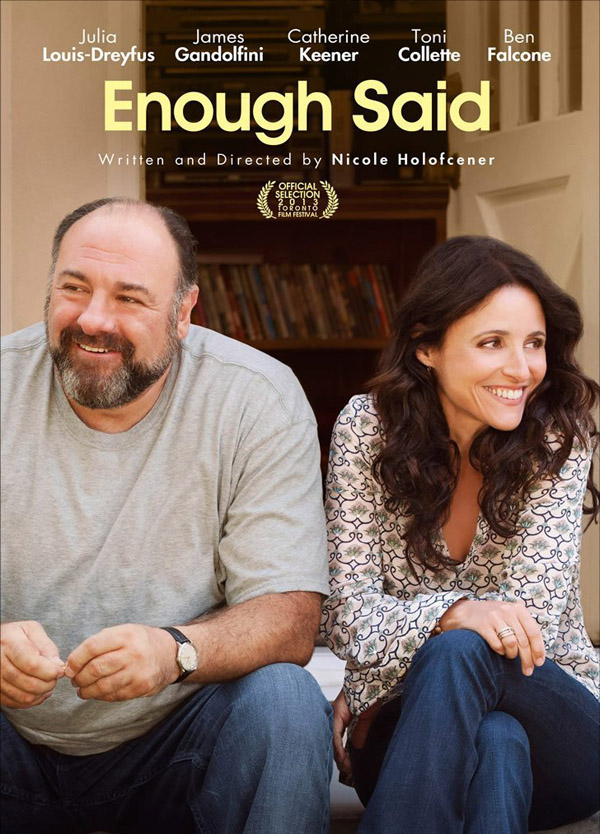 Julia Louis-Dreyfus and James Gandolfini star in this delightful story of two people entering a new stage in their lives. Enough Said is sweet, sensitive, and absolutely charming.
Eva (Louis-Dreyfus) is a divorced massage therapist who is facing the empty nest syndrome when her daughter is preparing to leave for college. Albert (Gandolfini) is a divorced man who is also facing the empty nest syndrome with his own daughter. The two meet and start dating and lo-and-behold discover they thoroughly enjoy each other's company.
Then Eva discovers her new client Marianne (Catherine Keener) is Albert's ex-wife. Through their conversations Marianne discloses all the things about her ex that drove her crazy. Little by little Eva notices those same things, and although they don't really bother her, the notion that they bothered Marianne starts seeping into her relationship with Albert.
The story focuses on the notion that one person's garbage is another person's treasure. Louis-Dreyfus takes charge of her role and embodies this character that is going through changes in her life while trying to come to terms with her emotions and feelings about all aspects of her relationships. And Gandolfini, in one of his last roles, is adorable and loveable as a man who just wants to be himself and wants someone to love him just the way he is and doesn't want to change him.
Toni Collette co-stars as Eva's best friend. Bonus features on the DVD include featurettes about the characters and the story. Enough Said is an endearing film. While it is sensitive and emotional, there are many laugh-out-loud moments that will charm viewers. It is difficult to view Gandolfini's performance without thinking of his untimely death. He is like a cuddly teddy bear in this role and viewers will most likely cherish his character and the actor.
While gaining a deeper understanding of what his ex considers his faults, Eva must search her own heart to find her own feelings. Enough Said is rated PG-13 for sexual content, thematic material and brief language. It is also available on Blu-ray.
About the Author
Francine Brokaw has been covering all aspects of the entertainment business for 20 years. She also writes about technology and has been a travel writer for the past 12 years. She has been published in national and international newspapers and magazines as well as internet websites. She has written her own book, Beyond the Red Carpet The World of Entertainment Journalists, from Sourced Media Books.
Follow her on Twitter
Like her on Facebook