Enjoy 'Tea with the Dames' on Blu-ray
Category:
Blu-ray's and DVD's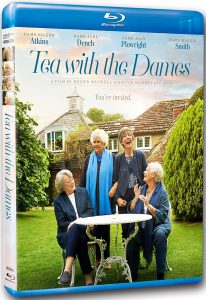 Viewers are like a fly on the wall listening and watching four of Britain's most legendary actresses discuss their lives, their careers, and their friendship. Tea with the Dames brings together Dame Judi Dench, Dame Maggie Smith, Dame Joan Plowright, and Dame Eileen Atkins as they reminisce in a British countryside cottage. While many of their stories are discussed, there are plenty of clips and photos from their past that play on screen.
In the beginning it might seem like 84 minutes of these four women discussing their lives is a bit boring, but after they start interacting with each other and viewers learn how their lives have progressed over the decades, this is an intriguing film.  They are not only British "Dames" but they are also each amazing actors and also great friends. Their dramatic talents are on display as well as their biting wit and humor.
Plowright was also Baroness Olivier, having been married to Laurence Olivier. The four women talk about working with Sir Laurence. Plowright discusses having two titles: Lady and Dame.
Smith was married once to an actor (Robert Stephens) and a playwright (Beverley Cross).  Atkins was married to actor Julian Glover and producer Bill Shepherd. And Dench was married to actor Michael Williams. The foursome has fun stories about their pasts and working on various projects.

Each of the four began their careers on the stage and theater was their main focus. Little by little they added films and television to their resumes. Dench was in several Bond films, and Smith was in Downton Abbey. She admits she has not seen all the episodes however has a box set of the series. Tidbits like this are priceless for fans of the renowned actors.
Some of them were awarded their titles by Queen Elizabeth and some by Prince Charles. Becoming a Dame is like men becoming a Sir. They are women who have achieved greatness in drama. This is the highest level of award for Brits.
Tea with the Dames is a fun way to experience the lives of these four extraordinary women. It is not rated but will have appeal to adults and older teens.

About the Author
Francine Brokaw has been covering all aspects of the entertainment industry for over 25 years. She also writes about products and travel. She has been published in national and international newspapers and magazines as well as Internet websites. She has written her own book, Beyond the Red Carpet The World of Entertainment Journalists, from Sourced Media Books, is the entertainment correspondent for Good Day Orange County, and has her own TV show, Beyond the Red Carpet, on Village Television in Orange County. Follow her on Twitter.