'Encanto' is charming
Category:
Blu-ray's and DVD's
Category:
Television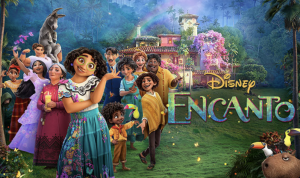 The newest animated musical feature from the talented folks at Disney is Encanto. This is a charming story of magic, family, and destiny.
The story takes place in Colombia and focuses on the Madrigal family who all live in a magical house in the mountains. They call their casita "Encanto." When each member of the family reaches a certain age, he/she is blessed with a different magic power. However, little Mirabel is not given any power. This is unusual. This has not happened before.
Mirabel, now fifteen years old, does not let the fact that she is the only one in her family without a magical power get her down. She is a loving, happy little girl, but looked down upon by others in the family.
She is not an outsider but she is not fully embraced by the entire family. She is, however, an adorable, generous, and wonderful little girl. And when she discovers the magic is about to go away and the fate of Encanto is in jeopardy, Mirabel decides it is up to her to save the house and her family.
This unlikely heroine is voiced by Stephanie Beatriz, who does a wonderful job of brining the love and excitement of life to Mirabel. "There's something that clicks inside her where she realizes the wheels are in motion for her to chase down her destiny," said Beatriz. "I like these heroine songs so much. We go on this major journey with the character and suddenly we know her better from the inside."
The movie is filled with upbeat songs from the legendary Lin-Manuel Miranda. The film is colorful with the joy of family, love, and life in the forefront. Audiences around the country have fallen in love with little Mirabel. She is definitely a Disney heroine in the same style as Moana. Mirabel deserves to be among the musical Disney heroines and is a character that the entire family will enjoy watching.
The movie opened in theaters November 24, 2021 and is now streaming on Disney+. It will be available on DVD, Blu-ray, 4K, and digital February 8, 2022 with plenty of bonus features, including a look at the making of the film, a sing-along version, a trip to Colombia, deleted scenes, and more. Plus there is a featurette about the house and a feature to jump to specific songs.
Encanto is rated PG.
About the Author
Francine Brokaw has been covering all aspects of the entertainment industry for over 25 years. She also writes about products and travel. She has been published in national and international newspapers and magazines as well as Internet websites. She has written her own book, Beyond the Red Carpet The World of Entertainment Journalists, is the entertainment correspondent for Good Day Orange County, and has her own TV show, Beyond the Red Carpet, on Village Television in Orange County. She is a longstanding member of the Television Critics Association, was a longstanding member of the Los Angeles Press Club, and is accredited by the MPAA. Follow her on Twitter.
Photo courtesy Disney