Ella the Elephant Season 1 Volume 1: The Magic of Friendship on DVD
Category:
Blu-ray's and DVD's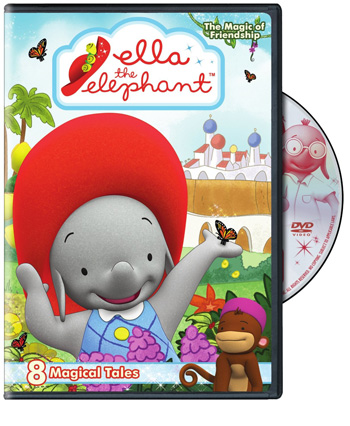 Ella the Elephant is based on a children's book series. The series is part of the Disney Junior lineup of children's programming. The series is broadcast on various networks around the globe. Ella is a fun character filled with love and caring for her friends. To say the series is based on friendship is an understatement. It's a great way to see how kids, even if they are elephants, relate to each other and care for each other.
For those unaware of this little girl, she is a sweet young elephant with a magic red hat. There are eight episodes in this DVD, and each one is filled with fun, upbeat, cute, and charming stories and all the loveable characters from the popular series.
In the first episode, "Ella's Got Talent," the little girl discovers that not everyone's talent has to be musical. When the class puts on a talent show, Ella tries to find her talent while the twins Ada and Ida plan to sing a duet, Frankie plays his instrument concoction, and, well you get the idea. But Ella doesn't know what talent she has. Then she learns her talent is taking care of everyone and being the best manager.
Little lessons like this, along with the fun of the characters, make this series a great pre-school show for kids. Ella has endeared herself to kids around the world. With this DVD your kids can watch Ella all the time. And it's a show parents can feel good about.
Mary Ellen Thomas, Vice President Family & Animated Marketing at Warner Bros., said, "Ella's stories impart messages of love, acceptance, courage and kindness, and that's just one of the reasons this program has become such a hit with viewers."
About the Author
Francine Brokaw has been covering all aspects of the entertainment business for 20 years. She also writes about technology and has been a travel writer for the past 12 years. She has been published in national and international newspapers and magazines as well as internet websites. She has written her own book, Beyond the Red Carpet The World of Entertainment Journalists, from Sourced Media Books.
Follow her on Twitter
Like her on Facebook