'Elephant Kingdom' on DVD
Category:
Blu-ray's and DVD's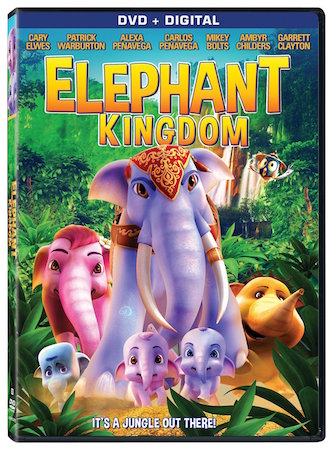 Elephant Kingdom is an interesting, colorful, and enjoyable animated film focusing on family and love. When the king decides to ban all family activities in order to have the elephants and the people concentrate solely on his desire to dominate the world, a revolution begins. The power-hungry king even dismisses his own son. His only interest is world domination and he wants everyone (humans and elephants) in his kingdom to work toward that goal.
Besides the king, his evil sorcerer has plans to that effect. He develops a spell that will make everyone forget they ever had a family. That way they won't be tempted to revert to their love and family loyalty.
Rock (voiced by Cary Elwes) is a mighty and powerful elephant whose love for his wife Melody (Alexa PenaVega) is strong enough to defy the king (Patrick Warburton). When Melody is taken by the king's men, Rock goes after her. And when his adorable twin babies are also taken – well, you know how strong a parent's love is for his children – he has had enough with the king and his power hungry warlords.
Helping Rock is a ragtag group of young orphan elephants who are filled with fun and quirky antics. They are so cute that without them, the film would not be as adorable as it is. And Wingman (Garrett Clayton), is a fun little bird who does everything in his power to keep the elephants safe.
Nothing is more important than love and family love is at the heart of this story. Even the queen (Ambyr Childers) knows this and is banished from the castle and from seeing her son. The revolt against the king involves both humans and elephants as they learn that without family and without loving others and being loved in return, leads to an empty life.
Bonus features on the disc include a look at the individual characters and the humans who provide their voices (Patrick Warburton, Alexa and Carlos PenaVega, Mikey Bolts, and Garrett Clayton), as well as some "Miniscule" bonus episodes.
The movie is colorful and filled with music. It's interesting enough to be entertaining to adults as well as children. Although with many scenes of peril some very young kids might not enjoy the story. Elephant Kingdom is rated PG for violence, peril, thematic elements, and rude humor.
About the Author
Francine Brokaw has been covering all aspects of the entertainment industry for 20 years. She also writes about products and travel. She has been published in national and international newspapers and magazines as well as Internet websites. She has written her own book, Beyond the Red Carpet The World of Entertainment Journalists, from Sourced Media Books.
Follow her on Twitter