'Elena of Avalor' on Disney Channel
Category:
Television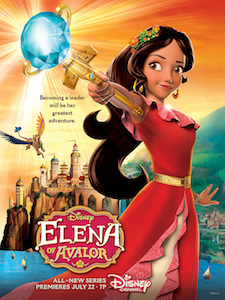 The newest Disney princess is about to make her debut. Elena of Avalor is a 16-year-old with a lot of spirit, determination, and spunk. A long time ago an evil sorcerer imprisoned her inside an amulet, and her sister Isabel and their grandparents were stuck in a painting. 41 years later they are free and ready to continue their lives.
Elena is excited to be queen, but after the first episode, "First Day of Rule," she realizes she needs some on-the-job experience before ascending to the throne. So, she appoints a Grand Council to help her. They include her grandfather Francisco, her grandmother Luisa, her older cousin Duke Esteban, and her new friend Naomi. She also has Zazo, an animal spirit guide.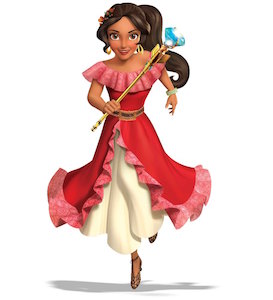 Elena of Avalor is a spinoff of Disney Junior's popular series Sofia the First. There are several similarities between the two fairytale lands, but there are also many differences. Sofia has a magical amulet that summons other princesses when she needs help. Elena has a "scepter of light," a beautiful glowing scepter that gives her special powers.
Sofia has Minimus and the other flying horses, and Elena has Luna, Migs, and Skylar, flying creatures called jaquins that are half bird/half jaguar. Sofia and her sister Amber and brother James are much younger than Elena and Isabel. Sofia has Cedric the royal wizard and Elena has Mateo, a wizard-in-training. In their castles, Sofia gets advice from Baileywick and Elena has Armando.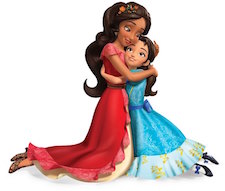 Elena and Isabel are Disney's first Latin princesses and the show incorporates Latin music, folklore, mythology, along with plenty of Disney magic and fun, as well as learning opportunities for the characters. As Elena sets off on her journey to be queen, she has to learn how to do her job well as well as how to balance her family with her royal duties.
Elena makes her debut in August in the Magic Kingdom in Walt Disney World, and later in Disney California Adventure in Disneyland Resort. There are already plenty of merchandise items that are becoming popular with youngsters. Elena's bright red dress and black hair sets her off from the other Disney princesses. She is young, but also very plucky and smart. And Isabel is also going to have her share of fans.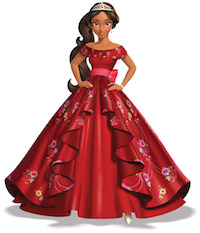 Elena of Avalor premiers on Disney Channel July 22, 2016.
About the Author
Francine Brokaw has been covering all aspects of the entertainment industry for 20 years. She also writes about products and travel. She has been published in national and international newspapers and magazines as well as Internet websites. She has written her own book, Beyond the Red Carpet The World of Entertainment Journalists, from Sourced Media Books.
Follow her on Twitter