'Elena of Avalor: Celebrations to Remember' DVD
Category:
Blu-ray's and DVD's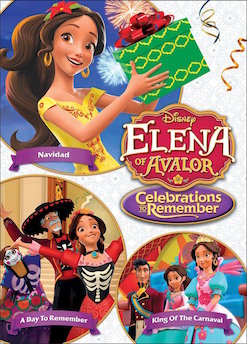 Join Elena and her friends and family in a collection of several celebrations in this new DVD. Elena of Avalor: Celebrations to Remember contains six episodes from the popular Disney Channel series.
In "A Day to Remember" everyone celebrates the lives of their deceased family members. This is especially difficult for Elena's younger sister Isabel who misses her parents and is depressed about their passing. But it's Elena who inspires her to remember the good times and keep their memories alive within herself.
Elena discovers she has the power to see ghosts and this helps her to help a family through a tough time. It also allows her to see her parents for a brief time. Even though this is the day of the dead, this Halloween in Avalor is filled with hope for the future.
Another episode, "Navidad," focuses on the Christmas holiday. Unfortunately, there are several parties planned for the same time so unraveling this sticky situation is not easy but Elena always finds a way.
In "Crystal in the Rough" Isabel attends school for the first time having been "castle-schooled" all her life. She is anxious to meet new friends, but soon discovers her good manners and intelligence are ridiculed by some of the tough kids. To change that, Isabel decides to change herself, but soon discovers that being true to yourself is the most important thing.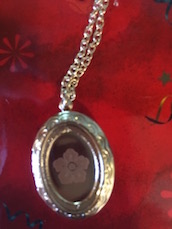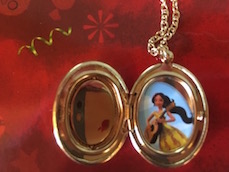 There are three other episodes included on this DVD: "King of the Carnival," "My Fair Naomi," and "Captain Turner Returns." A special bonus is an Elena locket included in the box. This gold-tone locket comes with an 18-inch chain. The front of the locket, which measures one inch in length, has an engraved flower. Being a working locket it opens up and on one side is a photo of Elena. The other side is empty so your child can place any picture of herself or her friend or family inside. The lobster-claw clasp is easy to open and close.
Elena and her family and friends have been embraced by young viewers and now several of their stories can be experienced over and over with this delightful new DVD.
About the Author
Francine Brokaw has been covering all aspects of the entertainment industry for over 20 years. She also writes about products and travel. She has been published in national and international newspapers and magazines as well as Internet websites. She has written her own book, Beyond the Red Carpet The World of Entertainment Journalists, from Sourced Media Books.
Follow her on Twitter