'Elena and the Secret of Avalor' on DVD
Category:
Blu-ray's and DVD's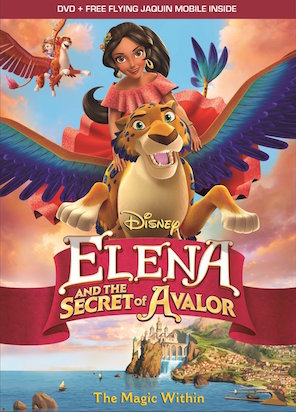 Fans of Disney Junior's Sofia the First and Elena of Avalor are in for a treat with this made-for-TV movie that aired on Disney Junior and is now available on DVD. We know that Sofia has the magic Amulet of Avalor, and we know Elena was imprisoned in that amulet 41 years ago. But how did Sofia end up with the amulet and how did Elena get free from her bondage? All these questions are answered in this movie that combines the characters from both TV shows into one magical tale.
After learning about the princess imprisoned in her amulet, Sofia talks her family into visiting the kingdom of Avalor for their summer vacation. She has ulterior motives. She has to go there to free the princess and return her to her throne.
For the past 41 years the evil Queen Shuriki has ruled Avalor after killing the king and queen and trapping Elena inside the amulet. Shuriki has ruled like a tyrant, outlawing singing, music, and dancing. But there has been no one to stop her. This evil sorceress is powerful.
So, when Sofia and her family get to Avalor, the little princess sets out on a dangerous mission to help the imprisoned princess. With the help of Zuzo, the spirit animal guide, flying jaquins, and Mateo (the wizard-in-training), Sofia faces an arduous task but comes through as always.
Once she releases Elena from the amulet, the two princess join forces to defeat Shuriki once and for all and release Elena's remaining family who have been trapped inside a magical painting. Once the family is together again, there is no stopping them from regaining their throne and kingdom, and returning music to the land.
Even though Elena and her family have been trapped inside magical items for 41 years, they have not aged, so she is still the teenage Crown Princess. There is plenty of magic in this engaging story as the two TV Disney princesses join forces. While other Disney princesses through the seasons have visited Sofia, this is the first time that these two have been brought together for a magical tale, and who knows, perhaps there will be more of the two young TV princesses in years to come. One of the fun aspects of Sofia the First is her magic amulet and the fact that other princesses visit her from time to time.
All the magic and fun of Sofia the First combine with all the magic and fun of Elena of Avalor in this delightful movie. Also included on the DVD are a music video and several episodes from the Elena of Avalor series.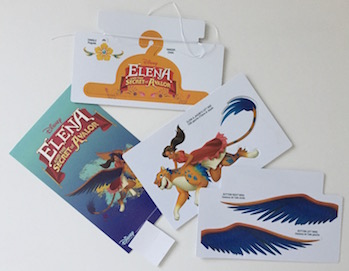 And the piece de resistance in this DVD box is an Elena and a flying Jaquin mobile of your very own. It's pretty sturdy plastic and requires an adult to assemble. Everything is included to make your own flying Jaquin except a scissors. Once assembled, this is really a cool little item. By gently tugging at the strings you can make the wings flap. It's like a little marionette. Or, it can simply hang down from the hanger included with this mobile.
Elena and the Secret of Avalor is rated TVY for everyone! The flying Jaquin is for ages 3+.
About the Author
Francine Brokaw has been covering all aspects of the entertainment industry for over 20 years. She also writes about products and travel. She has been published in national and international newspapers and magazines as well as Internet websites. She has written her own book, Beyond the Red Carpet The World of Entertainment Journalists, from Sourced Media Books.
Follow her on Twitter