'Echo Boomers' on DVD
Category:
Blu-ray's and DVD's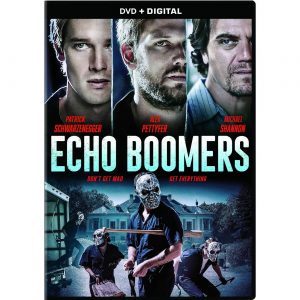 Patrick Schwarzenegger and Michael Shannon star in the action film Echo Boomers. The film is loosely based on a true story.
Lance (Schwarzenegger) is a college grad with debt up to his eyes. When his cousin Jack (Gilles Geary) invites him to Chicago to join his new business venture, Lance is eager to go. Apparently his degree in Art is an asset to Jack's business.
When Lance arrives in Chicago he is a wide-eyed young man dreaming of his new job and finally making some money. His past job-hunting prospects have yielded nothing so he is anxious to finally take advantage of his schooling.
Jack introduces Lance to a small group of his friends, aka business associates. These five young people have been disillusioned by life and by what they thought they were supposed to get if they played by the rules. Lance soon discovers Jack's business is really not a business. This gang of millennials is a ruthless bunch of thieves and hoodlums. They break into the homes of rich people to steal their valuables and Lance's contribution is hunting down the art.
What is even more disturbing is that these punks completely trash the homes. They are not in it simply to steal the valuables but to send a message to the rich. Why can't they be rich too? That is what they intend to do when they steal the items.
The group is led by Mel (Shannon) who gives them the addresses and items he wants from each home. But soon the gang wants more. Nothing is ever enough for them. They want more valuables, more destruction, more booze, and more drugs. They simply want more out of this life.
The story is tense and Lance gets thick into this new "business venture." But soon he sees he is in far too deep.
The acting is good and the story is quite disturbing. To think that people can be so callous about other people's property is unnerving. How can well-brought up people behave like this? Even with the economic situation looming down on them, they should have some pride. But all they want is revenge. The filmmakers wanted to make a social statement, but the characters are not compelling enough for viewers to feel compassion for them.
Echo Boomers is a thriller/action film. It is rated R for drug use and pervasive language. It is not a film for children.
About the Author
Francine Brokaw has been covering all aspects of the entertainment industry for over 25 years. She also writes about products and travel. She has been published in national and international newspapers and magazines as well as Internet websites. She has written her own book, Beyond the Red Carpet The World of Entertainment Journalists, from Sourced Media Books, is the entertainment correspondent for Good Day Orange County, and has her own TV show, Beyond the Red Carpet, on Village Television in Orange County. She is a longstanding member of the Los Angeles Press Club and the Television Critics Association and is accredited by the MPAA.