Dwayne "The Rock" Johnson Talks 'Central Intelligence' and HBO's 'Ballers'
Category:
Movies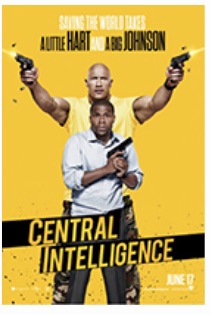 Talk about role reversals, comedian Kevin Hart plays straight man to Dwayne "The Rock" Johnson in Central Intelligence adding a new spin to the often-overworked buddy genre. Playing against his action hero image, Johnson has the brains and brawn needed to portray lethal CIA operative Bob Stone, but there's a sweet, vulnerable edge that is still festering from the relentless bullying he endured during his high school years.
On the flip side, Hart's character was "big man on campus," but now, 20 years later he's settled into a daily grind as an accountant and misses those so-called glory days. Then they cross paths again at their high school reunion and Hart's character Calvin gets way in over his head, with the prescribed number of stunts, fights, downright hilarious moments, and just maybe a new perspective on life.
Forty-four year old Johnson admits he didn't suffer the same plight as his onscreen alter ego. He recalls, "I wasn't bullied in high school, but there were two incidences in junior high when I thought I was going to be fighting one guy, but I was jumped by a couple of guys. The best thing I had to realize is that I had to stand up for myself after a kid bullied me all summer. I hit that kid so hard. I jacked him in his face and then ran home so fast, I ran out of my shoes.
"My mom wanted to know where my shoes were. When I confessed, she said, 'Maybe go find him and work it out.' The moral of her story was that you're going to get in a situation, but don't you ever run from somebody. Stand up for yourself."
What Hart's character comes away with is a realization and gratitude for all the good things that he's achieved in his life. This feeling of good will extends far beyond the picture frame. Hart interjected, "I came into this movie knowing where DJ is in his career and I was excited to work with him. The fact that there were no egos and we approached those days 110 percent made it that much easier. I think it shows in the movie, that there's a genuine happiness in these characters."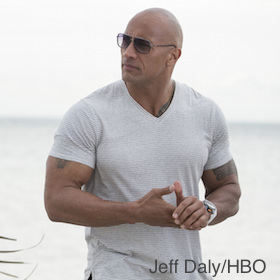 Returning to the home screen, HBO's series, Ballers launches its second season on Sunday, July 17. Scantily clad women, exotic cars, professional football – what's not to like as Johnson reprises his role of Spencer Strasmore, a financial planner for the sports division of Anderson Financial in the behind-the-scenes NFL dramedy.
Aptly providing comic relief is his coke-addicted boss, Joe (Rob Corddry) who pressures him to "monetize" his gridiron teammates. Spencer's nice-guy reputation within the community helps gain the needed trust of current and former players.
Found on the potential roster of clients are the short fused wide receiver, Ricky Jerret (John David Washington (Denzel's son), a former lineman Charles Green (Omar Benson Miller), who works for one of the area's largest car dealer, and rookie defense tackle Vernon Littlefield (Donavan W. Carter), who is getting a long overdue lesson in eating crow.
The series' debut season lined up an impressive collection of genuine athletes like Giants wide receiver Victor Cruz, Steelers Pro Bowler Antonio Brown, and Redskins wide receiver DeSean Jackson. The sophomore season promised the same caliber of special guests.
Popping painkillers like breath mints, Spencer ignores a leftover injury from his playing days that is affecting his neurological function. In addressing the repercussions of one too many concussions, Ballers refuses to gloss over real issues that are plaguing the league today.
Another is the legal and financial woes facing players, who've signed contracts upwards of $100 million for five years, and recklessly end up broke. Despite all the superficial trappings of success Spenser, often finds himself in those same dire straits.
Ballers mixes and matches a few elements from two previously successful HBO franchises – The Sopranos and Entourage, which also credited Mark Wahlberg and Steve Levinson as executive producers. As for the former, Spencer mirrors Tony Soprano, an authoritative figure and all knowing sage, who manipulates situations and people to get his way even if those circumstances seem a tad unethical. And like Entourage, there's plenty of male bonding, allegiance, and flunkies looking for a free meal ticket.
Johnson embraces Strasmore so seamlessly because he shared a similar dream. The former WWE champion, who will be seen in the next two sequels of The Fast and the Furious elaborated, "The life of Spencer Strasmore was a life I wanted. When I first stepped on the University of Miami campus at 18, I had no money and we struggled for a long time, but my Number One goal was to make it to the NFL just so I could buy my parents their first house. I never lived in a house until I was 28 years old. Up to that point we always lived in efficiencies and apartments."
Those dreams of gridiron glory got sidelined by numerous injuries – five knee surgeries, a bad back injury, and complete reconstruction of his shoulder. By 22, it looked like those dreams would never come true. Looking at his international success today, what is his reaction? "I think people would say Holy S—t! I'm very, very grateful. I've got a lot of good people around me like my partner, Dany Garcia (his wife, who he divorced in 2007), who commit themselves to our overall success, whether it's the production company Seven Bucks, which was the amount of money I had in my pocket back in 1995, or whether it's the movie career or other things we want to do.
"I always say, you could strip it all away – the lights, Hollywood, the glitz, glamour, the cars, the money. It will always come down to the hard work and commitment you're willing to put in. So I got a lot of people around who are willing to work just as hard as I am, and believe me, I push their assess."
Although Johnson has more than half a dozen projects in the works, there's one that's especially close to his heart – the documentary Rock & A hard Place for HBO. It focuses on a special military-type boot camp for juveniles as part of the Dade County Correctional Facility outside Miami. While there's no specific release date, Johnson is aiming for September or October, coinciding with a number of different film festivals.
"When I was in the Miami area I asked the drill instructors, 'Would you mind me coming to speak to these kids?' And I gotta tell you, when I walked in this place, the energy hit me. They are called cadets, not prisoners," he related, an edge of sincerity and caring is conveyed in his voice.
"I basically told these kids, 'Listen, you guys are going to have an opportunity to get out. I was once sitting where you're at. There was an immediate connection. What I didn't share is that my family was evicted from our apartment in Hawaii and we were forced to leave Hawaii. It would up being the greatest blessing in disguise, because at that time I was getting in a lot of trouble.
"I already had multiple arrests under my belt from doing a lot of things that I shouldn't have been doing. I'm really lucky that I didn't wind up in prison. Certainly I was on that track if I had stayed there in Hawaii," he confessed.
"The rate of recidivism in the United States is somewhere in the 70s. The rate of recidivism coming out of that facility is nine percent, a fact that blew us away," he concluded.
About the Author
Winnie Bonelli is a former entertainment editor for a daily metropolitan New York City area newspaper. She is passionate about movies and television and loves to take readers behind the scenes.