'Dorothy and the Wizard of Oz: We're Not in Kansas Anymore' Season 1 Volume 1 DVD
Category:
Blu-ray's and DVD's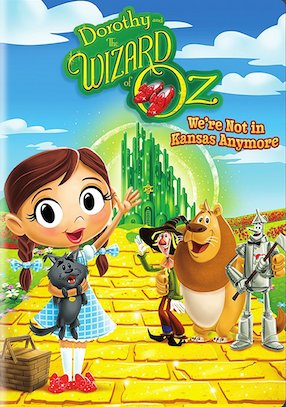 She's back. Little Dorothy returns to Oz with Toto and along with her friends The Scarecrow, The Lion, and The Tin Man, she helps maintain peace in the land. The animated tales take place after the defeat of the Wicked Witch of the West. Queen Ozma is in charge of Oz, and appointed Dorothy as the Princess of Emerald City. Dorothy just clicks her ruby slippers together and voila, she's back in Oz. Dorothy and The Wizard of Oz: We're not in Kansas Anymore is an entertaining compilation of stories from the Emerald City.
The series airs on Boomerang and now ten of the episodes are combined in this one DVD. We all remember Judy Garland as Dorothy, but this animated Dorothy is just as endearing. As a matter of fact, she's even more so. She is upbeat and always willing to lend a hand. She's perky and a delight.
"Dorothy and The Wizard of Oz draws from the magical stories in L. Frank Baum's original Oz book series," said Mary Ellen Thomas, Vice President Family & Animation Marketing. She added, "The Wonder Wizard of Oz, which is the story most are familiar with, served as the springboard for the prolific book series. Consumers today might not be aware that Dorothy's adventures in OZ continue well beyond the original story. We are delighted to bring these beautiful stories to life with this fun, new, original series."
This DVD includes ten episodes:
1. Beware of the Woozy
2. Magical Mandolin
3. Toto Unleashed
4. Official Ozian Exam
5. Locket Locket in My Pocket
6. Mixed-Up Mixer
7. Ojo the Unlucky
8. The Lion's Share
9. Rules of Attraction
10. Brain Power of Love
I remember reading all of the Oz books when I was young. I devoured them and couldn't understand why they all weren't made into movies. Well, now today's youngsters can get more of the magic of Oz and The Emerald City in this delightful animated series. And, I highly recommend getting the series of books for the youngsters in your home. They will be swept up in the wonders of Oz, just as I was.
For all the fun of the characters and the magic of OZ, Dorothy and The Wizard of Oz: We're not in Kansas Anymore Season 1 Volume 1 is a fun DVD.
About the Author
Francine Brokaw has been covering all aspects of the entertainment industry for over 20 years. She also writes about products and travel. She has been published in national and international newspapers and magazines as well as Internet websites. She has written her own book, Beyond the Red Carpet The World of Entertainment Journalists, from Sourced Media Books.
Follow her on Twitter