'Dorothy and the Wizard of Oz: We're Not in Kansas Anymore Season 1 Volume 1 DVD GIVEAWAY
Category:
Giveaways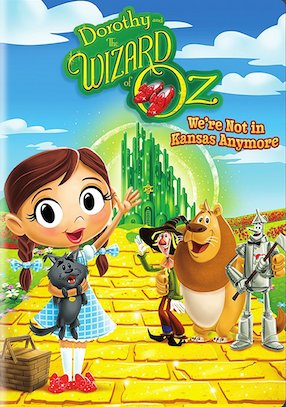 Dorothy and The Wizard of Oz™: We're not in Kansas Anymore Season One Volume One centers on the adventures of Dorothy after she and her friends defeat the Wicked Witch of the West. Packed with memorable melodies, iconic Oz imagery (and of course her Ruby Slippers) that are sure to delight fans of the beloved children's book series by L. Frank Baum and the classic film The Wizard of Oz, the series follows Dorothy after she's named Princess of Emerald City by Queen Ozma. Dorothy embraces her royal duties with enthusiasm, bravery and farm-girl feistiness.
Dorothy is now responsible for reining in the chaos and tracking down whichever magical person, place or thing has caused mischief in Oz, and putting a stop to it. It's no easy task however, not even for a plucky Kansas farm girl turned royal princess. With her good friends at her side, including Toto, the Scarecrow, the Tin Man and the Lion (whose newly found courage is often still fleeting), Dorothy is sure to take on her new role with great determination and captivate the hearts of everyone in Oz.
We have some DVDs to giveaway.
To be eligible to win a copy of Dorothy and the Wizard of Oz: We're Not in Kansas Anymore Season 1 Volume 1, email us at [email protected] with "Dorothy in Oz Giveaway" in the title. Please supply your name, address, phone number and email address (so we can let you know if you are a winner)
.
The deadline for this giveaway is March 26, 2018.