'Doris Day: A Sentimental Journey' on DVD
Category:
Blu-ray's and DVD's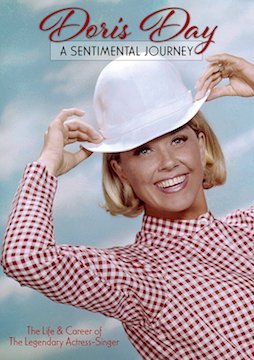 On April 3, 2018 Doris Day celebrated her 96th birthday. She was born Doris Mary Ann Kappelhoff in Cincinnati. A car accident put an end to her budding dance career and she immediately switched to singing. From there she went to acting, and, as they say, the rest is history. Hollywood history, to be exact. Doris Day: A Sentimental Journey is a film that puts Doris back in the public's eye.
Doris has been an icon for several generations of moviegoers. While she is probably mostly thought of as one half of the Doris Day/Rock Hudson romantic comedies, she is much more. The chemistry between Day and Hudson sizzled on screen, yet she also had the same amazing chemistry with James Garner, with whom she co-starred in two romantic comedies, and Cary Grant.
Besides romantic comedies, Doris starred in several musicals and dramas. She proved she could do it all, and was great at everything she did. She was nominated for several awards in her career and won a slew of Golden Globes.
When she as cast in Romance on the High Seas in 1948, Day became an overnight sensation. Her film career spiraled and she was the consummate professional. No star tantrums or excesses were her style. She was always prepared and gave everything she had to her characters, whether it was drama with plenty of crying, comedy, singing, or anything else that was required of her. Her final film was With Six You Get Eggroll in 1968. Then, from 1968-1973 she turned her sights on TV with The Doris Day Show.
While acting on TV, Day started the Doris Day Animal Foundation and today it is still a viable organization for the humane treatment of animals. While she seems to be a perennial upbeat woman, Day has suffered great tragedies in her life, some of which are documented in this 1991 film. She was at the top of the ladder in terms of her career, yet when she walked away from films, she discovered all her finances were gone.
Some of her other co-stars in her illustrious film career include Gordon MacRae, Frank Sinatra, James Cagney, James Stewart, Clark Gable, and, well, you get the idea.
Bonus features on this DVD include a full episode of The Doris Day Show, an episode of The Merv Griffin Show with Day, some movie trailers, and information about the Doris Day Animal Foundation.
Doris Day: A Sentimental Journey is filled with scenes from her films and clips of her songs. You'll find yourself singing right along with her. She is underappreciated in the business and deserves to stay on the minds of the public, and be introduced to the younger generations.
There is more to Doris Day than what is shown in this film, however it is a wonderful look at the life and career of this exceptional woman. She could do it all, which is something most actors these days cannot do. She was great at comedy, drama, singing, and simply being.
Doris Day: A Sentimental Journey is not rated yet it is suitable for everyone. It's a fun and interesting look at her life with Doris Day giving viewers a personal tour of her career.
About the Author
Francine Brokaw has been covering all aspects of the entertainment industry for over 20 years. She also writes about products and travel. She has been published in national and international newspapers and magazines as well as Internet websites. She has written her own book, Beyond the Red Carpet The World of Entertainment Journalists, from Sourced Media Books.
Follow her on Twitter