'Dora and the Lost City of Gold' on Blu-ray Combo Pack
Category:
Blu-ray's and DVD's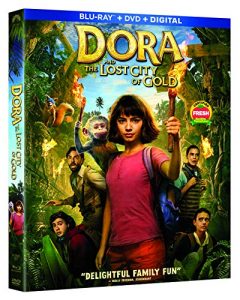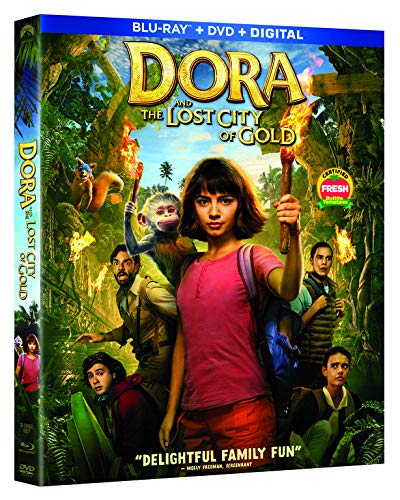 Dora and the Lost City of Gold is a fun film for everyone who loves the brave explorer and who grew up with Dora. It is a live-action story with Isabela Monor starring as the effervescent Dora.
The story begins when Dora and Diego are six years old. They are living in the Amazon jungle with Dora's explorer parents (Eva Longoria and Michael Pena) and of course, Boots. Diego moves to Los Angeles with his parents and the cousins are separated.  Fast forward ten years and Dora's parents send her to live with Diego (Jeff Wahlberg) when they go exploring for the lost city of gold.
Dora is a fish out of water in the big city but that doesn't stop her from being her friendly self. It does bother Diego who is a typical high school student just wanting to fit in. Well, Dora definitely does not fit in.
Then one day Dora's parents go missing. Soon treasure hunters, who want Dora to lead them to her parents, kidnap Dora and some of her high school friends. They know the explorers have found the lost city and they want the treasure.
Well, Dora, Diego, and two of their friends find themselves in the Amazon. A friend of Dora's parents soon rescues the foursome. Together they search for the lost couple.
Along the way the teens must learn to work together as they encounter one dangerous situation after another. But Dora is always positive and even ready to cheer them up with a song. Boots (CGI'd into the film) joins the group. Everyone's favorite little monkey doesn't disappoint viewers. He's as loveable and helpful as always. His eyes are very expressive and viewers will enjoy seeing the little guy in a non-2D version.
There are fun moments in the movie. There is one scene in which Dora and Diego breathe hallucinogenic spores and see themselves as animated characters.
The Blu-ray combo pack includes plenty of bonus features. There are bloopers and deleted scenes. There is a look at Isabela Moner stepping into the famous character of Dora the explorer. A bonus about the stunts is cute and it looks like the cast had a lot of fun filming this movie. There is a great bonus about how Dora's jungle house was created. This is a residence that will be admired and coveted by many viewers. It's really interesting and, well, very cool. The movie was filmed in Australia.
Dora and the Lost City of Gold is a fun adventure for Dora fans. It shows the little girl as a teen and leaves the door open for future films. The movie is rated PG for action and some impolite humor.
About the Author
Francine Brokaw has been covering all aspects of the entertainment industry for over 25 years. She also writes about products and travel. She has been published in national and international newspapers and magazines as well as Internet websites. She has written her own book, Beyond the Red Carpet The World of Entertainment Journalists, from Sourced Media Books, is the entertainment correspondent for Good Day Orange County, and has her own TV show, Beyond the Red Carpet, on Village Television in Orange County. Follow her on Twitter.