Dolphin Tale 2 Combo Pack
Category:
Blu-ray's and DVD's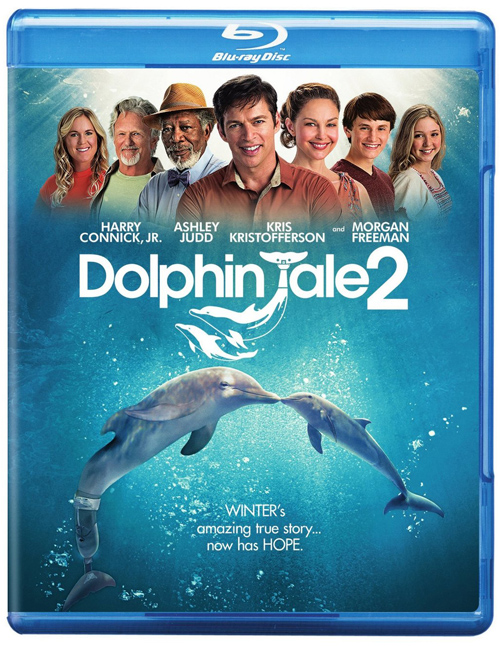 Three years ago the world was introduced to Winter, a sweet dolphin that was injured and had to have her tail removed. Thanks to the extraordinary efforts of many people, a prosthetic tail was created, allowing Winter to move more like she should. Dolphin Tale was the story of how Winter survived. Now, Dolphin Tale 2 continues on her story and introduces a new dolphin to viewers: Hope.
The entire cast returns for this sequel: Harry Connick, Jr. (Dr. Clay Haskett who runs the facility), Nathan Gamble (Sawyer Nelson), Ashley Judd (Sawyer's mother), Kris Kristofferson (Clay's father), Cozi Zuehisdorff (Clay's daughter Hazel), Austin Stowell (Kyle), Morgan Freeman (Dr. Cameron McCarthy who invented Winter's prosthesis), and Bethany Hamilton joins the group as herself.
The film begins with Winter being a little lackluster these days. For some reason she isn't up to her usual self. Then, her "surrogate" mother Panama, an old dolphin who has been Winter's best friend, suddenly dies. Did Winter know Panama was dying? Anyway, after Panama's death, Winter is even more sullen. It is evident she feels the loss of the other dolphin. But that's not the only problem facing the team. According to the law, Winter cannot be kept alone. She must be paired with another female dolphin. Then, a dolphin is found beached. She is brought to the facility, but after she recovers from her injuries, she is released back into the ocean. There is no reason to keep a dolphin that can survive in the wild.
That leaves group with the same dilemma as before. They must find another female dolphin or Winter will be moved to a facility in Texas. Texas! They're not about the let that happen. They have cared for and loved the animal through the years. But what happens next is nothing short of a miracle in the form of a little dolphin named Hope.
Meanwhile, the kids who were so important in the first movie have grown up. Hazel and Sawyer are best friends, and becoming closer. They take more responsibility at the center this time around. Dr. Clay Haskett sees they are ready to step up and are dedicated to the animals and the center.
Bethany Hamilton appears as herself. Hamilton lost an arm to a shark and has been a popular figure in the surfing world and an inspiration for disabled people all around the world. Her story was dramatized in the film Soul Surfer. Hamilton and Winter are role models for disabled people, especially those who have lost a limb due to war, illness, or accident.
While the drama with Winter is continuing and everyone is hoping there will be a miracle to keep her in Florida, Sawyer gets an incredible offer to join a three-month semester at sea where he will learn even more about the animals in the ocean. He is conflicted about leaving Winter in her time of trouble. Should he leave her when her future is in jeopardy?
Kristofferson is Clay's father who doles out wisdom, and Morgan Freeman is the sympathetic doctor who creates another amazing prosthetic for Winter.
This inspiring true story will capture the hearts of everyone. The story of Winter and Hope is endearing and wonderful. And the dedication of all the people at the Clearwater Marine Aquarium is nothing short of inspirational.
For some additional humor in the story, keep your eyes out for a dedicated pelican who takes a liking to a sea turtle!
Bonus features include a look at how they filmed the underwater scenes, the true story of the dolphins, why the film was created, how the two kids had grown between the two films and took on more responsibility this time around, Bethany Hamilton's part in the movie, and some additional bonuses. The combo pack includes a Blu-ray, a DVD, and a Digital HD code.
Dolphin Tale 2 is rated PG for some mild thematic elements.
About the Author
Francine Brokaw has been covering all aspects of the entertainment business for 20 years. She also writes about technology and has been a travel writer for the past 12 years. She has been published in national and international newspapers and magazines as well as internet websites. She has written her own book, Beyond the Red Carpet The World of Entertainment Journalists, from Sourced Media Books.
Follow her on Twitter
Like her on Facebook