'Doc McStuffins: Toy Hospital' on DVD
Category:
Blu-ray's and DVD's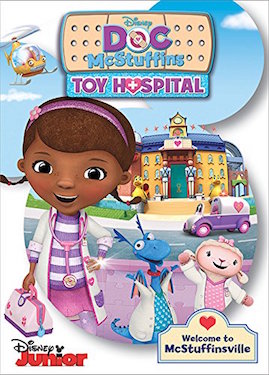 Doc McStuffins: Toy Hospital is a collection of episodes from the popular Disney Junior series. This collection looks at the McStuffins family adoption of a new baby and Doc's introduction to the world of McStuffinsville.
In these stories, viewers learn about the McStuffins magic – their ability to bring toys to life through their special stethoscopes. This magic was passed down to Doc by her grandmother. The special ability skips a generation. Her grandmother got it from her grandfather. So now it's Doc's turn. Viewers also learn how Lambie became Doc's first toy and best friend for life.
Now that Doc has shown her ability to care for the toys, Grandma gives her another gift. This time it's a Toysponder, a special bracelet that magically transports them to the world of McStuffinsville, named for their family. Only toys inhabit this enchanting place.
Doc takes over duties in the hospital. Lambie is put in charge of the nursery, Stuffy is in charge of pets, Chilly becomes the receptionist, Rosie is in charge of the ambulance, and Hallie is Doc's head nurse. They all have some great new adventures in this special place named for the McStuffins family. How cool is that? What is cooler? Being able to bring toys to life or being able to transport into a whole new town inhabited only by toys?
Besides the introduction to McStuffinsville, this disc focuses on the adoption of the new baby. Both Doc and Donny are excited to have a new baby sister or brother. They learn about responsibility and caring for another human. Doc is anxious to be a good big sister and a responsible baby sitter. She also wants to find the perfect first toy for the baby. This leads her to select a little koala named Lala. Lala will be to the new baby what Lambie is to Doc – her first toy and friend for life.
Once the baby is bought home, the task for the family is selecting a name for this little girl. While Donny wants to call her Apple Pie, the family settles on Maya – thanks to some input by little Lala.
Doc McStuffins: Toy Hospital is filled with a collection of stories to enchant and delight the entire family. It's colorful, musical, and has plenty of stories for the entire family to enjoy together. Included in the box is a toysponder for your child. While it won't magically transport him or her to McStuffinsville, it will inspire plenty of imagination in his/her own bedroom.
About the Author
Francine Brokaw has been covering all aspects of the entertainment industry for over 20 years. She also writes about products and travel. She has been published in national and international newspapers and magazines as well as Internet websites. She has written her own book, Beyond the Red Carpet The World of Entertainment Journalists, from Sourced Media Books.
Follow her on Twitter