'Doc McStuffins: The Exhibit'
Category:
Activities, Performances, & Events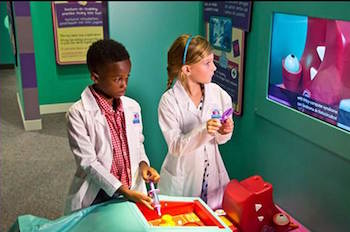 The "Doc McStuffins: The Exhibit" opened at The Children's Museum of Indianapolis on August 6, 2016. The immersive exhibit will travel to other museums around the country during the next few years.
Nancy Kanter, executive VP and general Manager of Disney Junior, said, " Doc McStuffins has already made a tremendous impact on how children see themselves and their possibilities by way of our popular TV series. We are delighted to now bring the show's message of care and compassion directly into communities across the country…"
The exhibit takes kids and parents into the backyard Toy hospital and clinic created by Doc McStuffins. Visitors wear white coats, are equipped with a toy stethoscope, and scrub in before they get to the operating room where they can fix and examine toys. Other toy devices they get to use are otoscopes, thermometers, and blood pressure cuffs to give the toys a checkup.
"It is a heavy order to convince children that going to see the doctor is not scary," said Dr. Paul Haut, chief medical officer of Riley Children's Health. "But it can be done through educational and interactive experiences, which help them understand that what we do is help keep people healthy. By teaching visitors about healthy habits, such as practicing good hand hygiene, exercising regularly and eating well, we hope this exhibit will put children's minds at ease, while supporting our mission to keep all Hoosier children healthy."
"Doc McStuffins serves as a great role model to children and adults, encouraging them to explore the importance of taking care of their own bodies as well as caring for others," said Dr. Jeffrey H. Patchen, president and CEO, The Children's Museum of Indianapolis. "Through imaginative play, we hope our visitors will learn more about health, science, and medicine, and discover that children can be anything they want to be when they grow up."
The Disney Junior series has won the Peabody Award, Image Awards, a Young Artist Award, and has been nominated for several other awards in recognition for not only its entertainment value for children, but also its educational value about teaching kids the importance of health and that doctors and hospitals are there to help them.
This exhibit, like the show, is designed for ages 2-8.
The current schedule for the exhibit (subject to change) is:
2016
The Children's Museum of Indianapolis – Indiana
2017
Family Museum – Bettendorf, Iowa
Discovery Cube – Santa Ana, CA
Discovery Cube – Sylmar, CA
2018
Reading Public Museum – Reading, PA
Children's Discovery Museum – San Jose, CA
Liberty Science Center – Jersey City, NJ
2019
Strong Museum – Rochester, NY
Children's Museum of Atlanta – Atlanta, GA
About the Author
Francine Brokaw has been covering all aspects of the entertainment industry for 20 years. She also writes about products and travel. She has been published in national and international newspapers and magazines as well as Internet websites. She has written her own book, Beyond the Red Carpet The World of Entertainment Journalists, from Sourced Media Books.
Follow her on Twitter