Doc McStuffins: School of Medicine DVD
Category:
Blu-ray's and DVD's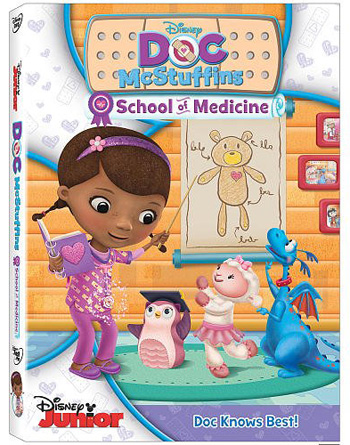 Doc McStuffins is a popular animated series on Disney Junior and, if you don't already know, it's about a six-year-old girl who magically communicates with toys. Doc is an adorable and loving child, and she is also a toy doctor! She helps mend them when they have a problem.
In this DVD there are five episodes, each with two different stories. The stories help viewers understand that going to a doctor isn't as bad as they might think. And, doctors can help them feel better and even see better.
With fun stories, adorable toys that come to life, and plenty of songs, these episodes are just as amusing for adults. And the bonus is, even if you or your children are not familiar with Doc and her gang of toys, this DVD is still enjoyable. It's a great disc to keep in the car to amuse the kids while you're on your way to the mall or running errands.
When I was a child, I envied those who worked in the local "doll hospital." It was the place where I could leave my dolls and know when I picked them up they would be fixed. Well, Doc not only fixes the toys, she is also an inspiration to young viewers. Doctors don't have to be scary. They are helpful and can fix "boo boos." And Doc might even motivate viewers to think about becoming doctors. Who knows?
Some of the lessons in this DVD are: we all need to wear warm clothes in the snow or else we'll get very cold, glasses are good to wear because they help us see, and it's OK to be different.
Joining Doc are her father and younger brother Donny, and all the fun toys: Lambie, Stuffy, Chilly, Professor Hootsburg, Hallie, and a host of others.
Included in the DVD box is a Doc Dress-Up Play Set with a Doc paper doll and plenty of outfits for dressing her as well as two different backgrounds to display Doc. It's just a little added fun to this song-filled set of inspiring stories.
Doc McStuffins: School of Medicine is rated TVY. With Doc McStuffins, the doctor is in!
About the Author
Francine Brokaw has been covering all aspects of the entertainment business for 20 years. She also writes about technology and has been a travel writer for the past 12 years. She has been published in national and international newspapers and magazines as well as internet websites. She has written her own book, Beyond the Red Carpet The World of Entertainment Journalists, from Sourced Media Books.
Follow her on Twitter
Like her on Facebook