'Doc Hollywood' stars Michael J. Fox
Category:
Blu-ray's and DVD's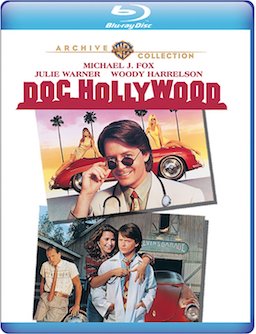 Michael J. Fox might have burst onto the small screen as the irreverent Alex P. Keaton in the hit sitcom Family Ties (1982-1989) and stolen the show in the Back to the Future franchise, but he also showed how adorable he could be in the 1991 hit comedy Doc Hollywood. The movie also stars Julie Warner, Woody Harrelson, David Ogden Stiers, Bridget Fonda, Frances Sternhagen, and Barnard Hughes.
As an eager surgeon traveling to his dream job in California, Ben Stone (Fox) manages to wreck his car in the small southern town of Grady. The town, incidentally, is in need of a doctor. So when he is charged with the offense and given community service in order to repay the damage he caused, he is put to work in the local hospital/doctor's office. The town's doctor (Hughes) is aging and the mayor (Stiers) feels he can persuade Stone to stay and becoming the official doctor of the little hamlet.
And speaking of hamlet, Stone is given a pig as payment for service by one of the locals. He also meets Lou (Warner) who has lived in the town her whole life, is planning on staying there, and who also drives the local ambulance which the doctor uses for housecalls. Yes, housecalls are common in this town. Stone falls for this young, perky woman with a strong sense of herself and her life.
Nancy (Fonda), the mayor's daughter, takes instantly to Stone. She wants to get out of the town and feels he might just be her ticket out. Since he is going to L.A., she desperately tries to charm him hoping he might take her with him when he leaves. But Hank (Harrelson) is a bit put off by the new guy in town.
This is a fun little film filled with plenty of quirky characters and a lot of southern charm. And Fox is completely endearing as a man caught in a difficult situation where his dreams and goals conflict with his heart and mind.
If you haven't seen this film or haven't seen it in a long time, now's the time to relive the fun that takes place in the town of Grady.
Doc Hollywood is now available on Blu-ray from the Warner Archive Collection. It can purchase at their website or online retailers where DVDs and Blu-rays® are sold. It's rated PG-13.
About the Author
Francine Brokaw has been covering all aspects of the entertainment industry for over 20 years. She also writes about products and travel. She has been published in national and international newspapers and magazines as well as Internet websites. She has written her own book, Beyond the Red Carpet The World of Entertainment Journalists, from Sourced Media Books.
Follow her on Twitter