'Doc Hollywood' on DVD
Category:
Blu-ray's and DVD's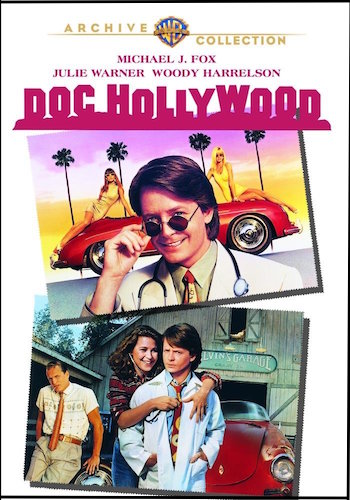 Michael J. Fox stars in this 1991 comedy about a fish out of water. Fox was in his heyday during this period of time having just completed a successful run from 1982-1989 in the hit sitcom Family Ties. Doc Hollywood is a fun story anchored by Fox.
Dr. Benjamin Stone (Fox) has just left his ER position in a hectic New York hospital and is driving his sports car out to Los Angeles for a prospective position in a plastic surgery practice. That would be a change of pace for this man who has been working long hours under difficult circumstances.
On his journey he accidentally knocks down a fence in the little town of Grady, South Carolina. Stone is sentenced to 32 hours of community service for his "crime." This small Southern town is welcoming to this young man, however they have an ulterior motive for their attention to him. Their doctor, Dr. Hogue (Barnard Hughes), is getting old and about to retire. They are looking for a new doctor and would love a young one who would stick around for many years and be part of the community. If they can persuade Stone that their town is a nice place to live, he just might decide to take the position and stay.
While settling into his circumstances and learning to live life a little less stressed, he finds the people rather dull and boring. He is given a pig as payment by one of his patients. For a man who has been living in a city with sophistication and a lot of entertainment and excitement, Grady is like a fictional place to him. He really has a difficult time but once he meets Lou (Julie Warner), the ambulance driver, things start to look up. He feels he can connect with her, but she sees him as a cocky young doctor who only wants to get to L.A. to make a lot of money and have fun.
During his stay in Grady Stone starts to settle down and actually, to his amazement, enjoys his life there. Grady, The Squash Capitol of the South, turns out to be just what the doctor ordered, no pun intended.
David Ogden Stiers, Frances Sternhagen, Bridger Fonda, and Woody Harrelson costar in this witty and enjoyable film. It's a cute story with Fox's character changing from his high- powered busy life into a relaxed Southern gentleman.
Doc Hollywood is part of the Warner Archive Collection. Besides the Back to the Future films, this is probably Fox's best comedic feature film.
About the Author
Francine Brokaw has been covering all aspects of the entertainment industry for 20 years. She also writes about products and travel. She has been published in national and international newspapers and magazines as well as Internet websites. She has written her own book, Beyond the Red Carpet The World of Entertainment Journalists, from Sourced Media Books.
Follow her on Twitter