Disney's New to Blue 2-Movie Collection
Category:
Blu-ray's and DVD's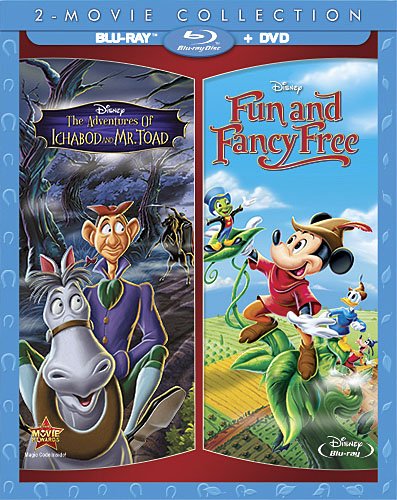 The packaging on this "new to blue" (Blu-ray) edition claims it is a 2-movie collection, however in fact three movies are included. Not only do viewers get The Adventures of Ichabod and Mr. Toad, and Fun and Fancy Free, but they also get the adorable The Reluctant Dragon. Each one of these films is full of the Disney touch.
The Adventures of Ichabod and Mr. Toad
Have you ever wondered what the inspiration was for the Disneyland attraction Mr. Toad's Wild Ride? Well, it came from The Adventures of Ichabod and Mr. Toad, which are actually two stories in one. Mr. Toad is taken from the classic book "The Wind in the Willows," and Ichabod is taken from "The Legend of Sleepy Hollow." These classic books are retold in the Disney tradition, with fun and music
The Adventures of Ichabod and Mr. Toad was released in 1949. These two different stories are different in tone and characters. Mr. Toad has a penchant for going overboard. When he sets his sights on a new motorcar, he ends up in all kinds of trouble, including jail. This story takes place in a fantasy world where the characters are animals. Ichabod Crane is set in a New England town with human characters. These short films might just inspire kids to read the books from which they were taken!
Fun and Fancy Free
As with the previous film, Fun and Fancy Free is also comprised of two stories. Hosted by Jiminy Cricket, the story of Bongo, a circus bear who escapes and discovers life is very different on the outside. There are plenty of songs and fun in this film. Bongo immediately finds love, but has to learn how wild bears act in order to get along. "Bongo" is narrated by Dinah Shore. And then there's "Mickey and the Beanstalk" narrated by Sterling Holloway and Edgar Bergen, from the classic fairy tale "Jack and the Beanstalk." This 1947 film was the final movie in which Walt Disney voiced his beloved character Mickey Mouse.
The Reluctant Dragon
The bonus film in this collection is perhaps the most adorable of all the stories. The Reluctant Dragon is a 1941 production combining live action with animation, and takes viewers inside the Walt Disney Studios to see how the filmmakers work. The story follows humorist Robert Benchley who is at the studio to meet with Mr. Disney to sell him the idea of his story about a shy dragon.
Once he gains entrance onto the lot, he wanders into various areas where all kinds of things are going on. He even gets a lesson in storyboarding and there is a short film within this movie about Baby Weems. So, there is a movie within this movie, so to speak.
The Adventures of Ichabod and Mr. Toad and Fun and Fancy Free are packaged in a new 2-movie Collection that includes a Blu-ray and two DVDs. And don't forget the additional film, The Reluctant Dragon. This set is filled with plenty of entertainment to keep everyone in the family amused. This edition is rated G for all audiences.
About the Author
Francine Brokaw has been covering all aspects of the entertainment business for 20 years. She also writes about technology and has been a travel writer for the past 12 years. She has been published in national and international newspapers and magazines as well as internet websites. She has written her own book, Beyond the Red Carpet The World of Entertainment Journalists, from Sourced Media Books.
Follow her on Twitter
Like her on Facebook