Disneynature's 'Growing up Wild'
Category:
Blu-ray's and DVD's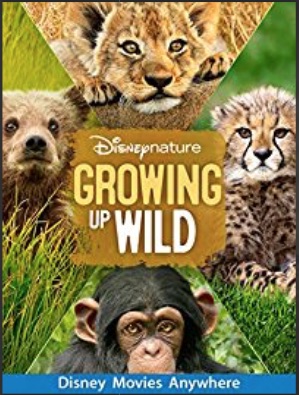 From the studios of Disneynature comes another interesting and educational film about life in the wild. Growing up Wild is available on VOD and Digital HD. Check out Disney Movies Anywhere to get your copy to view on your devices.
The film follows five young animals through their first years of life. The cameras are pointed at brown bear cubs in Alaska, cheetahs in Arica, lions in Africa, Chimpanzees in the African rainforest, and Macaque in Sri Lanka. The film has an interesting narration and storyline for each group of animals, and although the individual stories are fictional, they are based on the true-life adventures of these animals.
Every one of these animals faces various challenges however they all have their families for initial support. The first year of a brown bear cub's life is the most important as many of them don't survive. It's a dangerous country.
The cheetahs have a close family to help them and especially their mother who teaches them the ways of life in the wild. The young animals learn from their mother and the others in the group. The lions stay together as large extended families for a long time until the time comes when one must go out on his own. The macaques live in large groups and the chimpanzees keep their collection to about 30 family members. With all these families supporting their young, there are similarities and differences between each of them.
Hierarchies exist among the macaques, and if you're not born into a prominent family, you're low on the totem pole. Sad but true.
These five young animals will steal your heart as you watch them mature and learn how to survive in the wild. As they say, "Life is an adventure," and especially for the little brown bear cub, the young chimp, the young macaque, the lion, and the little cheetah.
Disneynature began making films in 2008 with the intent on bringing together top filmmakers with wildlife stories to entertain and educate viewers. Although Walt Disney began wildlife filmmaking and aired his movies on TV (1948-1960), these feature films began with Disneynature's Earth, Oceans, African Cats, Chimpanzee, Bears, and Monkey Kingdom. Not only does Disneynature bring the stories to the screen, the company has a Disney Worldwide Conservation Fund that supports many initiatives.
Disneynature's Growing up Wild is a fun film for families to view and discuss.
About the Author
Francine Brokaw has been covering all aspects of the entertainment industry for over 20 years. She also writes about products and travel. She has been published in national and international newspapers and magazines as well as Internet websites. She has written her own book, Beyond the Red Carpet The World of Entertainment Journalists, from Sourced Media Books.
Follow her on Twitter