Disney Princess recipe books are the perfect way to enjoy a summer celebration
Category:
Books and Music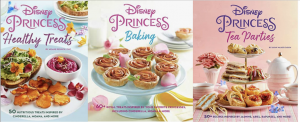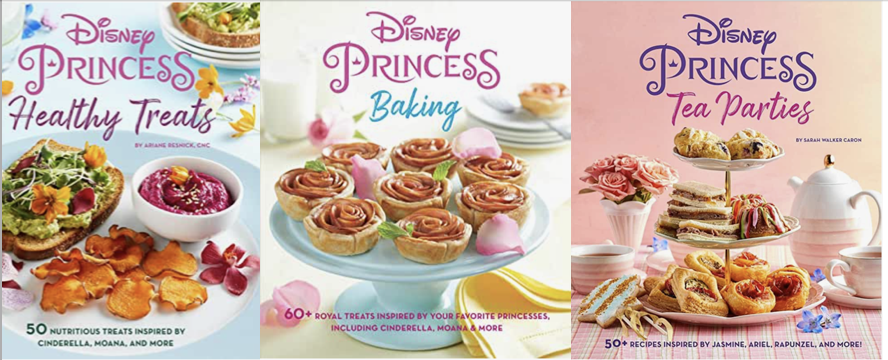 It's summer – finally! This is the perfect time to have some get-togethers, tea parties, or just some family fun. And at the center of all of these is – food! The Disney Princess recipe books are an enjoyable and unique way to spruce up your get-togethers. Photos of the final products as well as drawings of the princesses bring additional excitement to creating the dishes and drinks.
Disney Princes Baking has over 60 treats inspired by the Disney Princesses. There is a variety of mouth-watering treats for breakfast, snacks, and desserts. As the introduction says, "For over eighty years, since Snow White first appeared on the big screen, the princess of Disney have captured the attention of the world, motivating us to achieve our dreams while staying true to ourselves." The recipes in this book bring a little magic to any occasion, whether it is for adults or kids.
Jasmine Pistachio Honey Baklava is a little taste of the Middle East. While enjoying this delicacy, everyone will be thinking of flying carpets and exotic locales. Moana Heart of Te Fiti Pinwheels brings the flavor of the South Pacific to your table. And not only do they look delicious, they are!
Percy the Pug's Cherry Streusel Tart brings the heart of Pocahontas to any dessert. And for something from that chef herself, Tiana New Orleans Doberge Cake is like a New Orleans treat. 
If the theme of your get-together is princess magic, the Disney Castle Cake is not only a good dessert, but makes an adorable centerpiece while enjoying the main course. Obviously, just the cake and some tea or coffee would work too!
Flora, Fauna, and Merryweather Fairy Cakes are enchanting cupcakes that even during the school year would be a good option for students to bring for bake sales. And something I personally enjoy, Cinderella's Magical Pumpkin Bread is easy-to-make and delicious for all of us pumpkin spice lovers.
Whether you're having a tea party for adults or getting some of your children's friends together for a princess party, there are over 50 recipes in here inspired by the Disney princesses. The introduction states, "From sweet tale featuring woodland creatures and beautiful melodic voices to bold stories of being fierce in the face of challenge, Disney Princess movies entertain while demonstrating guiding principles of favorable characteristics." 
From sweet to savory, sandwiches to soups, as well as beverages, there are plenty of recipes in here to bring a sparkle to any tea party (or any party). How about some Bibbidi-Bobbidi Blueberry-Lemon Scones? The Heart of Te Fiti Spinach-Artichoke-Mozzarella Pinwheels sound yummy. I haven't tried these yet but they are on my list.
Another savory delicacy is Captain Li Shang Pepper Jack Finger Sandwich. Jasmine's Jeweled yogurt Parfaits, Whistle While You Wurst Lettuce Wraps, Gus-Gus Cheddar Puffs, and Ariel Roasted Tomato Mini Pies are just some of the other delights in the book.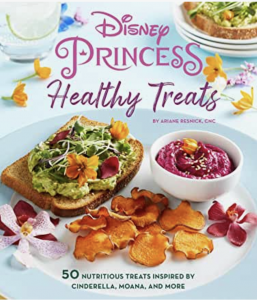 Disney Princess Healthy Treats
Yes, you can have magical treats and still eat healthy. This book includes 55 recipes inspired by several of the Disney princesses which are not full of sugar, calories, or fat. But they are still tasty. "Everyone benefits from eating healthier – princesses included!" There are plenty of suggestions for sugar-free sweeteners and healthier flour than plain white flour.
Breakfast has been touted as the most important meal of the day. There are some great healthy options in this book. Aurora Overnight Oats Parfait is something parents and kids can make together before going to bed, then in the morning it is ready to eat. 
There are several bread recipes like Rapunzel Challah and Pocahontas Skillet Cornbread. Entrees include Tiana Gumbo Rolls and Belle Cheese Soufflé (delicious). Treats and beverages add to the tasty yummies in the book. Rapunzel Berry Crumble, Cinderella Latte, King Triton Ocean Fizz, Jasmine Date and Walnut Pie, and more will have the while family enjoying these healthier options while still keeping with the fun and fantasy of the Disney stories.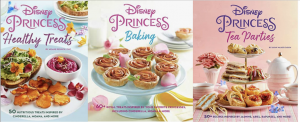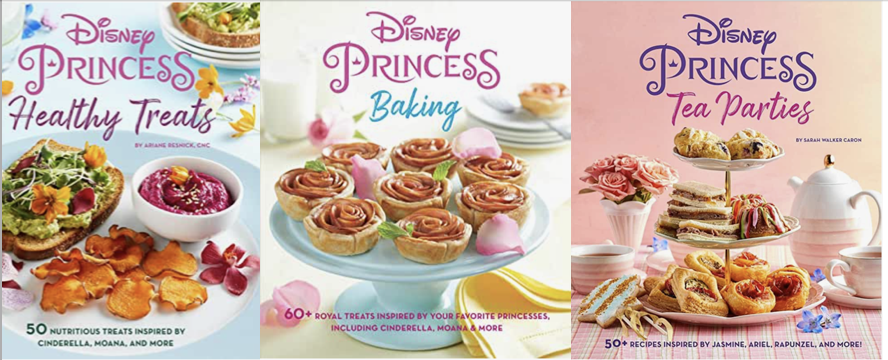 Whether you're making a family meal, a special party, or even a school function, there is something in each of these books for everyone.
About the Reviewer
Francine Brokaw writes about products, books, travel, and entertainment. She has been published in national and international newspapers and magazines as well as Internet websites. She has written her own book, Beyond the Red Carpet The World of Entertainment Journalists, is the entertainment correspondent for Good Day Orange County, and has her own TV show, Beyond the Red Carpet, on Village Television in Orange County. Follow her on Twitter.