Disney Holiday Classics in High Def
Category:
Blu-ray's and DVD's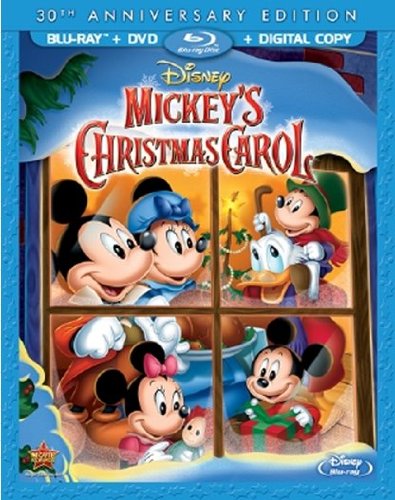 Two beloved Disney holiday films are now available in new combo packs. Mickey's Christmas Carol's 30th Anniversary Edition and Winnie the Pooh: A Very Merry Pooh Year's Gift of Friendship Edition each include a DVD and a Blu-ray as well as Digital Copy so you can enjoy them anywhere. With the high definition Blu-ray discs, the video and audio qualities are greatly enhanced.
Mickey's Christmas Carol 30th Anniversary Edition
Mickey and his friends star in a fun version of the popular Dickens story A Christmas Carol, with Scrooge McDuck playing Ebenezer Scrooge, Mickey playing Bob Cratchit. Goofy plays the ghost of Jacob Marley, and the three ghosts of Christmas are played by Jiminy Cricket (past), Willie the Giant (present), and Pete (future). Donald and Minnie along with other Disney characters join in this fun re-telling of the Dickens classic. As Mickey, aka Bob Cratchit, says, Christmas is "a time for giving." It's "a time to be with one's family."
When the film is on pause, there is even more fun, with songs to sing and things to watch. Plus, five additional animated shorts round out this new edition.
Bringing many Disney characters together in a classic story makes this a delightful version of the tale that has been produced many, many times – but not with these characters. So, for Disney lovers and those who enjoy the classic story, this is a must-have and will become an annual film the whole family will enjoy.
Winnie the Pooh: A Very Merry Pooh Year Gift of Friendship Edition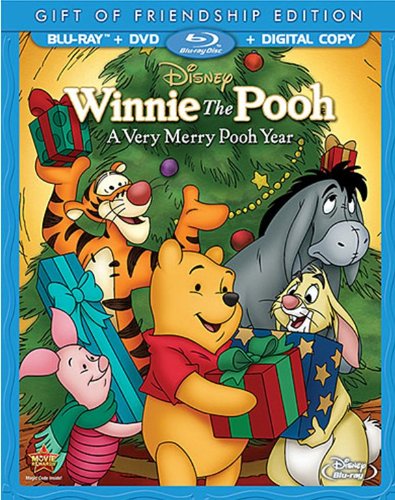 Pooh and his friends from the Hundred Acre Wood celebrate Christmas and New Years in this delightful movie. While decorating Pooh's Christmas tree, the gang recounts a past experience when their letter to Santa caused concern that Santa would not get to them that year.
While Roo anxiously awaits the arrival of Jolly Old St. Nick, he learns about that Christmas that almost wasn't. That was the year Rabbit wanted a fly swatter to keep the flies off his carrots, Eeyore wanted an umbrella to keep the snow off his house, Tigger wanted a snowshoe for his tail so he wouldn't sink in the snow when he bounced, and Christopher Robin wanted a sled. After they finish telling Roo the story, Kanga remarks, "Memories are the real gift of Christmas."
Then, with the arrival of the New Year, they all make resolutions after Rabbit wants them to change. Piglet and Tigger change personalities and Pooh and Eeyore change personalities. In the end, of course, they all revert to their own behaviors and all is right with the world again in the Hundred Acre Wood.
While on pause, there are fun activities to do, and additional bonuses include a sing-along with the movie option and more.
Both of these new editions provide fun holiday cheer for the entire family.
About the Author
Francine Brokaw has been covering all aspects of the entertainment business for 20 years. She also writes about technology and has been a travel writer for the past 12 years. She has been published in national and international newspapers and magazines as well as Internet websites. She has written her own book, Beyond the Red Carpet: The World of Entertainment Journalists, from Sourced Media Books.
Follow her on Twitter
Like her on Facebook