Disney Channel star Ethan Wacker is set to wow fans in Utah
Category:
Activities, Performances, & Events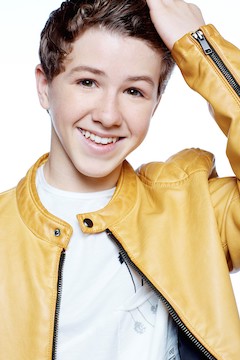 Utah tweens will be delighted on April 14, 2018 when Ethan Wacker, the co-star on Disney Channel's hit series Bizaardvark, will be greeting fans and signing autographs, as well as hopefully taking a few selfies. Wacker plays Bernie on the popular show and has amassed a loyal fan base.
This 15-year-old is a great role model for young kids, something parents can feel good about. He grew up in Hawaii, and like most kids on the islands he enjoys outdoor sports and activities, but he also likes skiing and has even won archery competitions. Talk about a well-rounded athlete. This young man does it all, and with great skill.
Unlike some young actors who are always looking out for themselves, Ethan has a good sense of community. He was part of the Hawaii Literacy organization, The Humane Society, and feels strongly about helping veterans. He's no sloucher. He definitely has the spirit to "give back" and "pay it forward."
Besides his current hit series, Wacker supplied the voice for Pip in the animated series Miles from Tomorrowland, another Disney Channel show. He is a young actor with a bright future in front of him. And if his fans have anything to say about it, he'll be around for a long time.
If you are in Utah, you're in for a big thrill when Ethan appears at the Traverse Outlets at Traverse Mountain (3700 N. Cabela's Boulevard) in Lehi. Parents – bring your earmuffs as the adoring tweens will be screaming their hearts out for their idol. And make sure all the cell-phones are fully charged for all the photos that will be taken. Parents might want to snap a few for themselves because this guy is adorable.
Mark your calendars for Saturday April 14, 2018 from 1-3 p.m. This meet and greet with Ethan Wacker will be an experience young girls will remember for years.
About the Author
Francine Brokaw has been covering all aspects of the entertainment industry for over 20 years. She also writes about products and travel. She has been published in national and international newspapers and magazines as well as Internet websites. She has written her own book, Beyond the Red Carpet The World of Entertainment Journalists, from Sourced Media Books.
Follow her on Twitter