Disney California Adventure Food and Wine Festival 2020
Category:
Activities, Performances, & Events
Category:
Travel


The annual Food and Wine Festival at Disney California Adventure is in full swing. The delicious concoctions developed by the amazing chefs at the Disneyland Resort are definitely worth a trip down to Anaheim.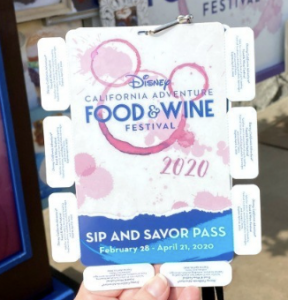 Pick up a Sip and Savor Pass ($56) for the ultimate and easiest way to try some of the delicious treats. Each Sip and Savor Pass has 8 tabs attached which can be exchanged at any of the Festival kiosks for one of the Food and Wine delicacies created for guests this year. No alcoholic beverages can be used with the Sip and Savor Pass, but there are plenty of other great beverages as well as food items to enjoy.
The various locations for the pass include: Nuts About Cheese, Uncork California, Golden Dreams, California Craft Brews, One in a Melon, Peppers Cali-Ente, LA Style, Avacado Time, Off the Cob, I (heart) Artichokes, Cluck-A-Doodle-Moo, Berry Patch, Garlic Kissed, Paradise Garden Grill, Fesstival Cart, Cappuccino Cart, and Hollywood Churro Cart. All of these locations as well their offerings are included on a plastic card with the Pass, to make things easy. Plus, you can order any or all of your treats at any location and collect your items when you are ready. That way you don't have to stand in line each time at each kiosk to order and collect your food or beverage.
The entire festival honors California.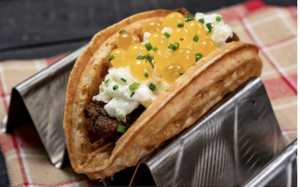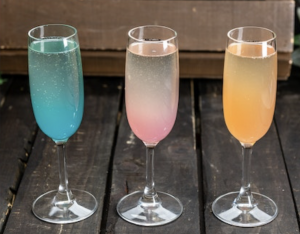 There is a Fried Chicken and Waffle Sandwich where the waffle acts like the shell of a taco with the chicken (along with a delicious cole slaw) tucked inside. There are nods to the California cheese and wine industries. And a Road Trip Mimosa Flight from Uncork California is an interesting way to try several different tasty mimosas, each honoring an area of the state. For the desert there is a Mojave Mimosa with raspberry syrup and peach juice, for the mountains there is the Sierra Mimosa with lavender and lemon juice, and for the ocean the Pacific Mimosa includes coconut, blue Curacao, and pineapple juice. You can order the trio (4 oz. each for $17) or a single larger drink ($15). My recommendation is to try the trio. Then later you can order the one you like the most.
And of course, there are plenty of sugary delights for everyone.
On a personal note…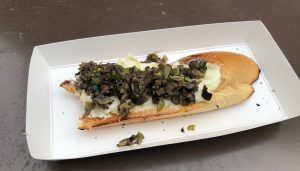 I had an entire three-course meal and only used half of my tabs for dinner. I began with a scrumptious Artichoke Toast with California Olive Tapenade from I (Heart) Artichokes. I really wanted a second it was so delicious, but I decided to tackle another item. I headed for Peppers Cali-Ente for the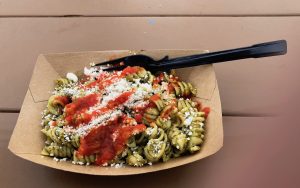 Creamy Poblano Pepper Pasta. Oh my gosh! This was SPICY. But it was so tasty that I kept eating, even though my mouth and lips were burning and I felt a sweat break out on my face. Whooo. That was hot, but also very delicious. Now in need of something to cool me down I visited Off the Cobb for a fruity Farmstand Punch.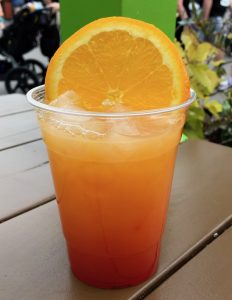 That did the trick. It is definitely a step above any fruit punch I have ever had. Now to top off my meal I visited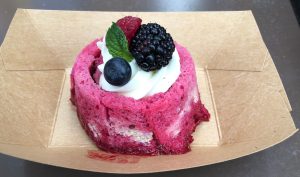 Berry Patch for the Oikos Greek Yogurt California Berries Summer Pudding. If you love berries you'll enjoy this dessert. They take Brioche Bread soaked with Raspberry Puree, stuffed with Grand Marnier-infused Mixes berries, and finished with Oikos Greek Yogurt whipped cream, with fresh berries. This has a touch of alcohol that is not detectable.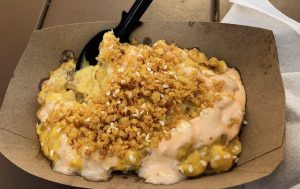 The next day for lunch I treated myself to the Impossible Cheeseburger Mac & Cheese dish at Nuts About Cheese, and I also returned to On the Cob for another Farmstand Punch. With a few other treats here and there, my 8 tabs on my Sip and Savor Pass were definitely put to good use.
Besides the food and drink, there are cooking demonstrations for adults and kids. Check out the website for more information.
The Disney California Adventure Food and Wine Festival runs through April 21, 2020. Get your friends and family together for this once-a-year delight.
About the Reviewer
Francine Brokaw writes about products, books, travel, and entertainment. She has been published in national and international newspapers and magazines as well as Internet websites. She has written her own book, Beyond the Red Carpet The World of Entertainment Journalists, from Sourced Media Books, is the entertainment correspondent for Good Day Orange County, and has her own TV show, Beyond the Red Carpet, on Village Television in Orange County. Follow her on Twitter.