'Dinosaur Train' Movie premiers Feb. 20, 2017 on PBS KIDS
Category:
Television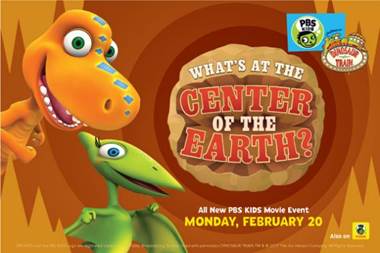 PBS KIDS' series DINOSAUR TRAIN will premiere an all-new one-hour special, "What's at the Center of the Earth?," on Monday, February 20. Created by Craig Bartlett (READY JET GO!) and produced by The Jim Henson Company, DINOSAUR TRAIN encourages kids ages 3-6 to apply scientific thinking as they discover new types of dinosaur species, and to embrace the living sciences of paleontology and natural science.
"With this new DINSOAUR TRAIN special, we are excited to give families another opportunity to engage with their favorite characters and learn about nature and science," said Lesli Rotenberg, Senior Vice President and General Manager, Children's Media and Education, PBS. "By delivering educational programming through our member stations and their newly launched PBS KIDS 24/7 channel and live stream, we look forward to continuing to serve America's children anytime and anywhere."
In "What's at the Center of the Earth?," the Conductor has a special surprise for the
Pteranodon Family: the Dinosaur Drill Train. This amazing machine gives its passengers a front row seat as they dig deep underground on a once-in-a-lifetime adventure below the Earth's surface. There, they discover a whole new world – from fossils and troglobites to rivers of lava. Along the way, the family gains a new perspective on our planet and what it's made of.
Following its premiere, "What's at the Center of the Earth?" will repeat throughout February on PBS stations and the PBS KIDS 24/7 channel and live stream. It will also be available for free on both pbskids.org and the PBS KIDS Video App, which is accessible on a variety of mobile devices and platforms such as Roku, Apple TV, Amazon Fire TV, Android TV, Xbox One and Chromecast. In addition, "What's at the Center at the Earth?" and four additional DINOSAUR TRAIN stories will be available on DVD from PBS Distribution on Tuesday, February 21.
New digital content from DINOSAUR TRAIN will include "Fossil Finder," a game that encourages kids to travel underground in the Drill Train to search for fossils. The game will be available the week of February 13th on pbskids.org and on the free PBS KIDS Games app.
DINOSAUR TRAIN airs weekdays on PBS KIDS (check local listings) and daily on the PBS KIDS 24/7 channel and live stream.