'Despicable Me 3' on 4K, Blu-ray, DVD, and digital
Category:
Blu-ray's and DVD's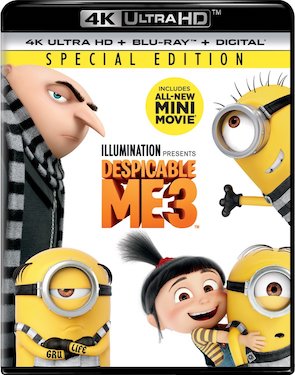 Despicable Me 3 continues to entertain viewers of all ages with the delightful characters that have been beloved by audiences since 2010. The three little girls – Edith, Agnes, and Margo – now have a real family. Gru and Lucy are devoted parents and everything is great for the family.
Then Gru and Lucy lose their jobs at the Anti-Villain League, the Minions decide to leave, and Gru discovers he has a twin brother Dru. Everything changes for them when Dru invites the family to his estate to entice his brother into returning to his live of a villain. But Gru isn't about to return to evil.
Then Gru has a great idea. He will use his brother to help him in a caper that will put him back in good graces with the Anti-Villain League and he and Lucy can get their jobs back.
While Gru and Dru are plotting their caper, Lucy is bonding with the girls. She desperately wants them to consider her their "mom."
Like in the past films, the girls steal every scene in which they appear.
This is not a story of good and evil, although that is a big part of the film. It is a story of family. What bonds everyone together, even the Minions, is their love for each other. Whether it's Lucy finally becoming a real mom to the girls, Agnes selling her stuffed unicorn when her parents lose their jobs, the Minions realizing they belong with the family, or Gru and Dru joining forces as brothers, family is at the core. The love of every family member is what drives each of their actions.
Steve Carell and Kristin Wiig reprise their roles as Gru and Lucy, and Julie Andrews returns as the voice of Gru's mother who admits that when he was a baby she and her husband broke up and each took one of the twin boys.
There are plenty of bonus features including a Mini Movie about Kyle the "dog" who is smitten by the poodle next door. He has competition for her affection from a cunning German Shepard. More bonuses include deleted scenes, additional antics with the Minions, a look at the Anti-Villain League, a "making of" feature, and more fun with the characters and the voice actors. With the additional features, viewers have much more to explore and enjoy with all the characters in this fun and entertaining film in the family-friendly franchise.
Despicable Me 3 is available on a 4K combo pack, a Blu-ray combo pack, and a DVD. It's rated PG for action and rude humor.
About the Author
Francine Brokaw has been covering all aspects of the entertainment industry for over 20 years. She also writes about products and travel. She has been published in national and international newspapers and magazines as well as Internet websites. She has written her own book, Beyond the Red Carpet The World of Entertainment Journalists, from Sourced Media Books.
Follow her on Twitter