Despicable Me 2 Combo Pack
Category:
Blu-ray's and DVD's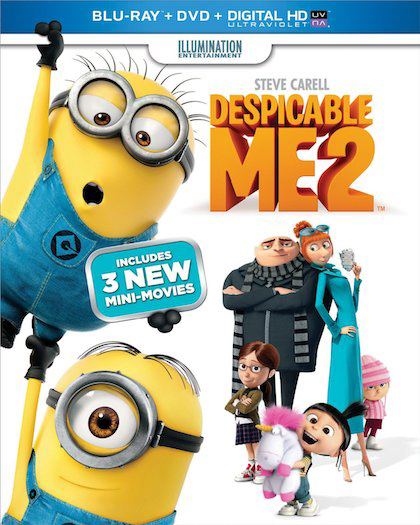 They're baaack. Those delightful minions and the three little girls that stole the hearts of moviegoers in Despicable Me have returned for their sequel, and with this combo pack viewers get many bonus features. The Blu-ray + DVD + Digital HD Ultraviolet Pack of Despicable Me 2 is filled with fun additional features, including three new minion mini movies.
Who didn't take Edith, Agnes, and Margo to their hearts in 2010, along with those curious and often-destructive little yellow minions? This sequel takes the family that was formed three years ago – Gru, the girls, and of course the minions – and adds another element. The girls are anxious for a mother, and (spoiler alert) they finally get one.
Despicable Me 2 has Gru (Steve Carrell) working with the Anti Villain League (AVL) along with Lucy (Kristen Wiig), a female James Bond style super spy with amazing gadgets ala Bond. As Gru and Lucy try to find the evil El Macho (Benjamin Bratt), Margo is discovering boys, Edith is continuing her love of danger although she still wears pink, and Agnes still loves girly things, including unicorns and princesses.
There is an evil plot under way to abduct the minions and turn them to evil. When they are turned to evil minions, they become purple with big, biting teeth, far from the adorable little guys we all know and love.
This story, although dealing with Gru's quest to locate the evil El Mahco, is more about the family. And besides the three girls, the family consists of all the minions.
There are many bonus features in this Combo Pack. There is one deleted scene in which viewers will see how little girls ostracized Gru as a young boy. There are featurettes which go into detail about the minions who are described as "fun-loving", "enthusiastic", and "goofy" among other adjectives. There is a look at how the evil minions were designed. The filmmakers wanted them to look different than their original forms, but also wanted them loveable and menacing at the same time. Another featurette looks at the evolution of Gru and how he turned into a loving and protective father. There's a featurette about El Macho, one about the three girls – with the actors who provide their voices (Miranda Cosgrove, Dana Galer, and Elsie Fisher) and who talk about their characters, and there is a bonus featurette about the gizmos and gadgets used by the super spies. James Bond would be jealous.
The three mini minion movies are the icing on the cake in this combo pack. Three little minion mini movies are filled with more fun for viewers. In one mini movie, "Panic in the Mailroom", the fight between the evil minion and the good minion bubbles to the surface. Another movie stars little Agnes who desperately wants to ride her bike to the ice cream truck but is too little so the minions step in and create a super duper bike for the little girl. And the third movie has one minion longing for a puppy of his own to love. He finds a little alien to take care of, but soon the little guy must go home, but not before leaving his new friend a "puppy" of his own to care for. All of these mini-movies are adorable and fun for kids of all ages.
Despicable Me 2 Combo Pack is rated PG for rude humor and mild action. It is a must-have for minion lovers.
About the Author
Francine Brokaw has been covering all aspects of the entertainment business for 20 years. She also writes about technology and has been a travel writer for the past 12 years. She has been published in national and international newspapers and magazines as well as Internet websites. She has written her own book, Beyond the Red Carpet: The World of Entertainment Journalists, from Sourced Media Books.
Follow her on Twitter
Like her on Facebook