Delivery Man on Blu-ray
Category:
Blu-ray's and DVD's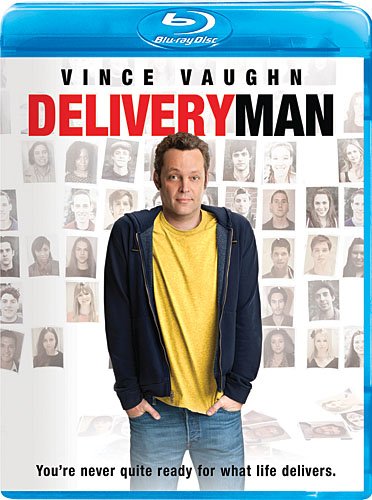 Vince Vaughn strays from his usual straight-comedy roles to carry this dramatic comedy on his shoulders. And he comes through with flying colors. Delivery Man shows the range of emotions Vaughn can deliver.
Vaughn plays David, a kind of screw up guy with no real goals in life. He delivers the meat for his family's meat business. He has no real responsibilities other than making sure the packages get to their destinations.
Many years earlier David used the name "Starbuck" when donating his sperm to a sperm bank. He was in need of money and this was an easy way for him to get it. He ended up making 693 deposits in the sperm bank. To say this guy was busy is an understatement.
The sperm bank did something it shouldn't have. They used David's sperm over and over again, and he ended up being the biological father of 533 kids. Now, many years later, 142 of those kids want to know who their biological father is and have joined together in a lawsuit to make his identity known.
David, again in need of money, counter sues the sperm bank for putting his identity in danger. He signed anonymity documents for each time he "donated" his sperm.
What happens through this story is that David secretly befriends many of his "children" and gets to know them. He is a self-described "incompetent meat truck driver," yet he suddenly becomes a "guardian angel" for many of the kids he sired. He starts looking out for them.
When news gets out that someone named "Starbuck" sired 533 children, the papers and late night talk shows are filled with stories, jokes, and plenty of folly as well as pointing fingers at the system. But David, having gotten over the initial shock of the situation and then having befriended many of the kids, feels something he has never felt before. He feels responsibility. But does he feel responsible enough to reveal his identity?
Delivery Man is a poignant story. It is filled with plenty of emotions that run the gamut from lighthearted joy to tugging at heartstrings. Chris Pratt plays David's bumbling and insecure attorney.
Bonus features on the Blu-ray include bloopers and a deleted scene. There is also a look at Vince Vaughn and his improvisational talent, as well as a look at the story of the family that the filmmakers put together. Vaughn describes the film as "funny but truthful." In fact, this dramatic comedy leans more on the drama than the comedy.
The movie is also available on DVD. Delivery Man is rated PG-13 for thematic elements, sexual content, some drug material, brief violence and language. It is an interesting story of what makes a family.
About the Author
Francine Brokaw has been covering all aspects of the entertainment business for 20 years. She also writes about technology and has been a travel writer for the past 12 years. She has been published in national and international newspapers and magazines as well as internet websites. She has written her own book, Beyond the Red Carpet The World of Entertainment Journalists, from Sourced Media Books.
Follow her on Twitter
Like her on Facebook