Definitely watch 'The Secret: Dare to Dream'
Category:
Blu-ray's and DVD's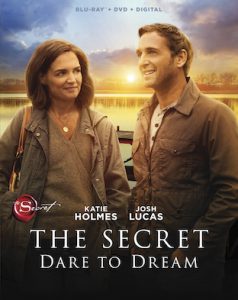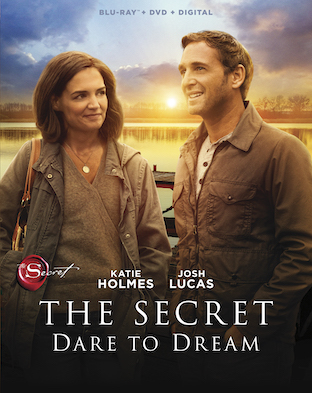 Katie Holmes and Josh Lucas star in The Secret: Dare to Dream, based on the best-selling novel The Secret. Jerry O'Connell and Celia Weston also co-star in this touching story about changing the way you look at life.
Miranda Wells (Holmes) is a widow and mother of three.  She is having trouble with her finances and is stretched to the limit. Miranda works in a restaurant for Tucker (O'Connell), a wealthy businessman who is in love with her. Miranda is not exactly sure how she feels about Tucker, but their relationship goes along smoothly.
One day Bray Johnson (Lucas) comes into town looking for Miranda. He has a special envelop for her, but she isn't home. So he reluctantly leaves it in the mailbox.
Then a hurricane hits New Orleans and Miranda's little house takes a lot of damage. Bray offers to help fix the roof. Even though she has not yet discovered the envelope since the mailbox was ripped away in the storm, Miranda agrees to let him help for a small fee. Her mother-in-law Bobby (Weston) insists the family move in with her while the repairs are being made. Bobby is apprehensive about Bray. After all, he is a stranger. What is he after?
Throughout all this time Miranda is struck by Bray's optimism and his coolness about everything, including life. She is the opposite. She frets over everything, but this new way of looking at things and believing that life will turn out all right is intoxicating. And it works for Bray.
Miranda and her family take a liking to Bray, but Tucker is still in the picture and he feels the same apprehension about the stranger.. Things start to turn around for her but then everything she thought and felt about Bray falls apart. Suddenly, in the blink of an eye, Bray goes from being a hero to a villain.
Bray's calm demeanor is something we can all learn from. 'The Secret' is a wonderful way of living. It is a positive way of living. It is a kind way of living. If everyone in the world read that book and followed the philosophy, it would be a better planet.
Can Miranda follow her heart and her dreams?
The bonus feature is a look behind the scenes and a discussion with the cast and filmmakers. They talk about how the book changed their lives and how this movie can do the same for viewers. It is a beautiful and timeless message of hope and compassion. It is definitely inspiring and worth watching. This is a family film that everyone can watch together and discuss after. Enjoy!
The Secret: Dare to Dream is rated PG for language and an injury image. It is available now on a Blu-ray/DVD/Digital release.
About the Author
Francine Brokaw has been covering all aspects of the entertainment industry for over 25 years. She also writes about products and travel. She has been published in national and international newspapers and magazines as well as Internet websites. She has written her own book, Beyond the Red Carpet The World of Entertainment Journalists, from Sourced Media Books, is the entertainment correspondent for Good Day Orange County, and has her own TV show, Beyond the Red Carpet, on Village Television in Orange County. She is a longstanding member of the Los Angeles Press Club and the Television Critics Association.