Dear Sofia: A Royal Collection on DVD
Category:
Blu-ray's and DVD's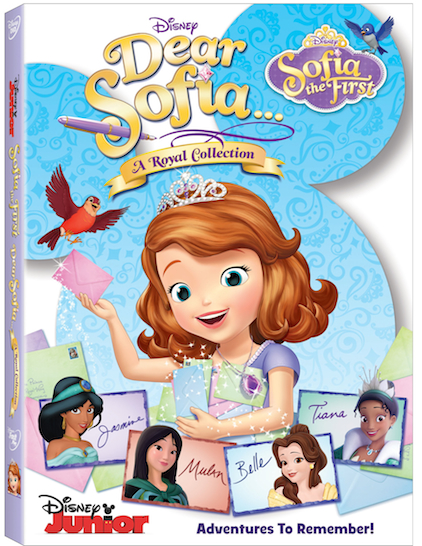 Sofia the First is a popular series on Disney Junior. Sofia is beloved by girls of all ages and holds a special appeal to young girls. When she needs help and guidance, other Disney princesses often visit Sofia. "Dear Sofia: A Royal Collection" is a compilation of six episodes from the series, four of which feature other Disney princesses.
In "The Amulet and the Anthem" Sofia gets a little too pompous when she is selected to sing the anthem at the Harvest Festival. Her magic amulet unleashes a curse because she was not nice to her friends making Sofia unable to sing because she croaks like a frog. Princess Belle arrives to impart some advice. Sofia learns saying "I'm sorry" isn't enough. As Belle says, "Actions speak louder than words." She tells Sofia, "Use all your might to make it right." Sofia does make amends with her friends and the curse is broken.
Mulan comes to assist Sofia in "Princesses to the Rescue." When Sofia, James, Amber, and King Roland travel to the Jade Valley to visit June, Jin, and their father. Jin and James discover a treasure map and go in search of the jewels, unaware that the Jade Jaguar guards the treasure. And he's not a statue. He's real. And he doesn't want people coming into his cave of treasures. Soon their fathers go after the boys and are trapped in the cave along with James and Jin. Sofia, Amber, and June then go to help rescue the others. Mulan's words of encouragement to not give up and that they are stronger than they think are just what the girls need to rescue the boys and their fathers.
"Winter's Gift" introduces Winter, a faun who has the power of ice. It's Wassailia time and for the past year Winter has been alone because everything she touches turns to ice, like Princess Elsa. But she cannot control it. Now she must find a gift to take to the witch to get her power lifted. Sofia is on a quest to gather Ice Lillies to give to Cedric after she decides her homemade box for his magic wand is not special enough. With the guidance of Princess Tiana, they all learn that a gift should come from the heart.
"Two to Tangu" has the gang from Royal Prep visiting the kingdom of Tangu and their friend Zandar who gives them magic carpets to ride to his special party. Amber is not happy about riding a carpet. After all, she doesn't want to get her hair messed up. Actually, she is afraid of riding on a carpet. Amber agrees to go and she and Sofia get a wild carpet. This little fellow doesn't listen to directions and they wind up lost in the kingdom until Jasmine arrives to teach them how to tame a wild carpet. Her lesson to them is not to be afraid to try new things.
The fifth episode in this collection is "Minimus is Missing." No princesses come to help in this episode, however. It is Amber who manages to help when all the flying horses fall under a spell of a young wizard named Wendell. With no flying horses, Sofia, James, and Amber take off on the three Griffins from the castle's jewel room. They follow the horses to Tangu where they have all been detained.
There is a bonus episode on this disc. "Cool Hand Fluke" has the family once again in Merroway Cove where the underwater kingdom welcomes them back. Sofia magically transforms into a mermaid again and the merpeople are happy to see her. They decide to present the royal family with a song but Fluke is jealous of Sofia for saving them the last time she was there and manages to make a mess of things. In the end they all learn that jealousy is not a worthwhile emotion.
Episodes in Sofia the First are filled with delightful songs and in each episode a valuable lesson is taught, although viewers won't know they are learning. All young viewers will know is that they are enjoying a fun story with the little Disney princess.
Included in this DVD is a Sofia pen and a card on which to send the little princess a personal message. The envelope is pre-addressed to Sofia. No, it doesn't go to Enchancia. It goes to New York. But I'm sure the folks in the big apple will forward the messages to Princess Sofia.
About the Author
Francine Brokaw has been covering all aspects of the entertainment business for 20 years. She also writes about technology and has been a travel writer for the past 12 years. She has been published in national and international newspapers and magazines as well as internet websites. She has written her own book, Beyond the Red Carpet The World of Entertainment Journalists, from Sourced Media Books.
Follow her on Twitter