Dear Heart on DVD
Category:
Blu-ray's and DVD's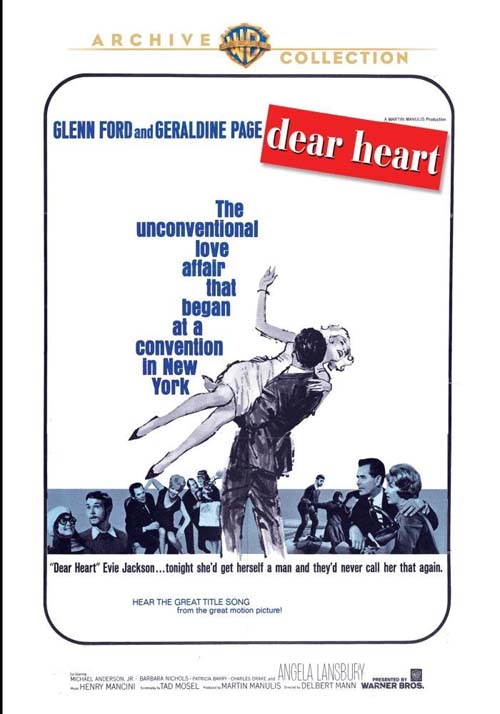 This 1964 movie stars Glenn Ford and Geraldine Page as two lonely people who meet and fall in love. Dear Heart is in black and white and really emphasizes the character-driven storytelling of the day.
Evie (Page) comes to New York for her annual Postmasters' convention. She is forthright and self-aware. She has the employees at the hotel page her throughout the lobby so she can feel important. She even redecorates her hotel room, which is something you have to see to believe!
Harry (Ford) has been a salesman who has just been promoted to the marketing department, so he is looking forward to settling down in one place. While looking for an apartment in NYC, he is staying at the same hotel where Evie is and they continue to run into each other. Then, on a whim, Harry asks Evie to spend some time with him.
Harry is a womanizer, and Evie is not a saint, but when he tells her he is married, she is saddened because she feels a strong attraction to him. The thing is, Harry is not actually married. He considers himself married because he is engaged, but that is a story in itself. He is an enigma.
Each of these characters has eccentricities of their own, and put together they make a very interesting couple. Her peculiarities annoy him, at least for a while. Then they become endearing.
The movie was nominated for an Academy Award for best original song, "Dear Heart" which plays throughout the film. The song makes a beautiful melodic backdrop to the strange love story.
Dear Heart is part of the Warner Archive Collection and is available from their website at www.wbshop.com.
About the Author
Francine Brokaw has been covering all aspects of the entertainment business for 20 years. She also writes about technology and has been a travel writer for the past 12 years. She has been published in national and international newspapers and magazines as well as Internet websites. She has written her own book, Beyond the Red Carpet: The World of Entertainment Journalists, from Sourced Media Books.
Follow her on Twitter
Like her on Facebook